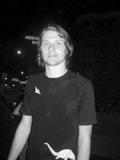 Snapdragon Records has confirmed that All-American Rejects touring keyboardist Tim Jordan has passed away. The 24-year-old Camden, Arkansas native reportedly committed suicide in his hometown yesterday.
Jordan's musical origins trace back to Snapdragon Records band Welton, for whom he played guitar. Welton broke up earlier this year, and Jordan consequently went on to join Number One Fan as that band's touring keyboardist before ending up in the Rejects camp this past Summer.
Snapdragon's site made a post about the tragedy, mentioning in part:

Tim was loved by all and was amazing with his fans… He was well known for his great live performance and interaction and his ability to communicate and seem to care about all! He lived breathed and ate music.
Our deepest condolences go out to Jordan's family and friends.