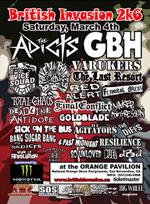 A number of people wrote in about the riots that took place last night at the British Invasion 2k6 festival in San Bernardino, California. The event featured a number of veteran punk acts including GBH, the Adicts, Total Chaos, Vice Squad, Varukers and Broken Bones among others.
Witnesses have cited a disturbance from white supremacist and neo-Nazi groups as having spurred the fights that lead to the riot. The crowd reportedly became agitated when police and fire personnel arrived to respond to the report of a stabbing in the venue. The officers were repelled by the crowd but were later successful in securing the victim. He was brought to Loma Linda University Medical Center. Another man who was hit by a chair was also hospitalized and both are said to be in stable condition.
Police in full riot gear then shut the venue down and herded the 1,500 strong crowd out of the venue into the streets. Law enforcement agencies used tear gas and pepper balls to disperse the crowd, but in the interim two police vehicles parked inside the venue were vandalized, and several people were hurt. Police reinforcements were called in from as far away as Pomona, CA.
The event was organized by SOS Records and Showcase Presents. It was the third year the event was held at the National Orange Show Events Center in the Orange Pavilion.
The San Bernardino Sun has a more extensive article and photo gallery available here.