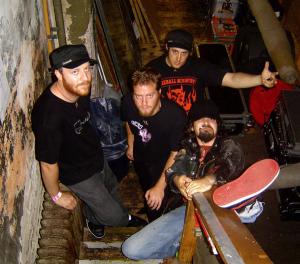 CKY has signed to Roadrunner Records.
The band was formed in Pennsylvania in 1998 by Deron Miller (vocals/guitars), Chad I Ginsburg (guitars/vocals) and Jess Margera (drums), CKY's debut album Vol. 1 surfaced in 1999 on the indie label Volcom Entertainment, and was eventually picked up by Island Def Jam in 2001. The band's first Island Def Jam album and breakthrough Infiltrate-Destroy-Rebuild came in 2002, followed three years later by An Answer Can Be Found.
As you might expect, the band has a myspace page and has filled it with music, pictures and lots of flashing things.