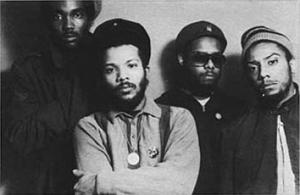 Some big news for fans of hardcore pioneers, the Bad Brains today. Official word has come in that the reunited group has signed to Megaforce Records, home of notable acts like Ministry, S.O.D. and Mushroomhead.
News of the album being produced by Adam Yauch first surfaced in 2004, but very little came out of the Bad Brains camp until the band's triumphant return to CBGB in 2006. This led to a formal reunion of its original lineup - H.R., guitarist Dr. Know, bassist Darryl Jenifer and drummer Earl Hudson. Recent rumours pointed to a Spring 2007 release, and the news confirms this.
The new album is currently being finished in New York and will be released worldwide this spring 2007. Adam Yauch (MCA of the Beastie Boys) produced the yet-to-be-titled Bad Brains album and it represents the first recording, aside from Beastie Boys' recordings, from the Oscilloscope laboratories and studio. The Bad Brains recently honored the legendary punk club CBGB's closing in 2006 by performing three shows, which sold-out in record time.
A Bad Brains worldwide tour will commence, including several festival appearances, this spring in conjunction with the album's release.