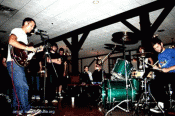 Our daily parade of streams continues this week with Die Hoffnung's 2006 full-length, Love Songs. The low-profile No Idea act is composed of the brothers Marburger, formerly of a little band you may have heard of called I Hate Myself, and has thus earned comparisons to Hot Cross and fellow Marburger project Burnman.
Stream Love Songs on Die Hoffnung's band profile.
More streams are coming, so keep an eye (and ear) out for the likes of Tomorrow the Gallows, Nikola Sarcevic (Millencolin) and the Automatic.