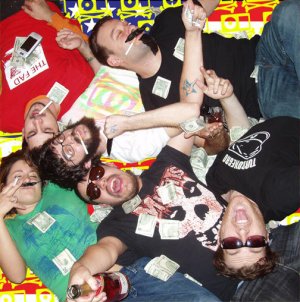 Bomb the Music Industry! are about to embark on a two week tour of the UK. To mark the occasion, band ringleader, Jeff Rosenstock has signed on to participate in our new Dispatches series. Check back over the next week to see what Jeff has been up to across the pond.
| | | |
| --- | --- | --- |
| January 23, 2009 | Brighton | Prince Albert |
| January 24, 2009 | Southampton | The Homestead |
| January 25, 2009 | Exeter | Cavern Club |
| January 26, 2009 | Swansea, Wales | Bar Sigma |
| January 27, 2009 | Cambridge | Portland Arms |
| January 28, 2009 | Kingston | Bacchus |
| January 29, 2009 | Norwich | Marquee Pub |
| January 30, 2009 | Nottingham | Speakeasy |
| January 31, 2009 | Belfast | Lavery's Bunker |
| February 1, 2009 | Greystones Co., Wicklow | Greystones Theater |
| February 2, 2009 | Dublin | Lecture at Trinity College! |
| February 2, 2009 | Dublin | The Boom Boom Room |
| February 3, 2009 | Glasgow | 13th Note |
| February 4, 2009 | Edinburgh, Scotland | The GRV |
| February 5, 2009 | Aberdeen, Scotland | The Tunnels |
| February 6, 2009 | Newcastle | The Cooperage |
| February 7, 2009 | Bradford | Manville House |
| February 8, 2009 | Manchester | Tiger Lounge |
| February 9, 2009 | Colchester | The Curve Bar |
| February 10, 2009 | Brixton | The Windmill |
BLOG ONE: FALSE START / STARING AT A (PRETTY) GERMAN COUPLE
It's 2:40 PM on Thursday. I should be bumbling around London like an asshole trying to track down spray paint, construction paper, exacto knives and other shit that you can't stick in a backpack and say "oh, yeah, I'm not gonna use this to cut and blow up motherfuckers" at an airport without it being confiscated and a likely full-cavity search. However, I'm at Newark airport, missing my show, waiting for an overnight flight from here to Dusseldorf, where I'll then go to London Heathrow. To make a long and boring story short, I did not get on a plane last night to London.
Preparation for this tour has been weird. Not only am I going at this by myself for the first time ever, but because I have the opportunity to, I am dead set on playing every Bomb the Music Industry! song I've ever written on this trip. However, I think bouncing bass guitar with synthesizer and drum tracks is total bullshit (why not just lip sync over vocals if you're gonna do that, right?) so I've spent the past few weeks recording a synthesizer bass for every Bomb the Music Industry! song ever. I think that's like sixty or so songs. While I've been doing this, I've been tackling a daunting task with Skylar from Asian Man which is how the fuck to have a CD with a 32-page 'zine and a sticker decoder that doesn't cost a million dollars. I've re-laid out artwork more times than I can even remember and as of this point, the art is potentially not done because I'm not entirely sure what the hell template I'm supposed to reformat it for, if any template. Go big or go home I guess, right? Or as it is right now, go big AND go home?
A few other weird things have happened during the past few weeks getting ready for this tour:
1. My sister's apartment got burglarized, her boyfriend choked and tied up but doing fine now.
2. My grandfather died this past Saturday, the funeral is right now.
Of course it's not all doom and gloom, and I'm probably being a bit of a baby, but stuff like that makes positive stuff like hacking your Wii and getting a new TV seem pretty trivial, even if they keep ya busy when you're not running around. It kinda makes every innocent fuck up scream the question, "how are you going to pay rent this month? how are you going to pay rent next month? this whole year?" As I'm crossing the security checkpoint, I call Mike Park to let him know I'm on my way. He lets me know that the pound has dropped to a RECORD LOW which means my plans of paying rent when I get home, well, may be fucked.
We both laughed hard at that one. That's all you can do, considering how lucky I am right now even if there's been a string of weird and frustrating circumstances. I'm sitting in an airport, Tracy Ullman's genius pop song "They Don't Know About Us" is playing over the speakers, about to play my own music on the other side of the ocean. That's a pretty enormous step for me considering four years ago I was ready to give up on music, eventually settling on the contentment of just writing songs I liked and letting people hear them for free. Problems like "why are these bass notes quantizing to the 16th instead of the 8th like I'm programming them to," "why do I have to keep changing this elaborate artwork that I'm given the opportunity to make elaborate" and "fuck, my flight to England got screwed and now I'm gonna only be traveling England, Wales, Scotland and Ireland for 20 days instead of 21" are pretty fun problems to have.
Maybe the pound can go up!
Maybe that extra night at home was good 'cause I got to watch the season premiere of Lost and program a sweet Hot Snakes cover!
Maybe it was good that I woke up at 6 AM today 'cause I'm splitting my jetlag in two pieces!
Maybe having such a rocky start means there's no place to go but up!
Shit yeah. But I still keep looking at that plane out the window right now and keep wondering what the hell is gonna go wrong this time and send me back to my chilly apartment in Brooklyn. Hopefully the next time I talk to you I will be fully jetlagged and bumbling around a new city trying to find stupid shit! Fingers crossed, yo.