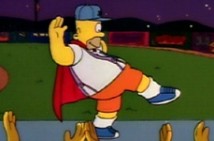 Red Scare has announced plans to distribute the new EP from The Isotopes. The label explained:

It's hilarious, upbeat, and catchy baseball-themed pop-punk. Like the Hanson Brothers…but for Americans! They released the "Heatseeker EP" on their own and we are welcoming them to the Red Scare family by distributing this EP on iTunes and other digital retailers. I know Red Scare is known for being a buncha godless commies but even WE like fun times and baseball. We're pretty sure you'll enjoy this stuff too, so scamper over to iTunes and check out this EP. We'll leave the baseball puns to them, they're way better at it.
Check out the album via iTunes here.