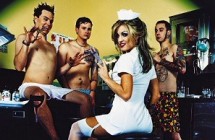 Blink-182's wildly popular 1999 full-length, Enema of the State, will be released on vinyl for the first time by independent punk/hardcore label Mightier Than Sword Records (O Pioneers!!!, Ris Paul Ric, Smartbomb). The news was initially mentioned late last night on Generic Insight Radio, but Punknews.org is ecstatic to now bring you exclusive details on the release.
The album will be the first in a 10 Year Anniversary series by the label, with each release involving a limited pressing of 500 on 180-gram vinyl. They will also feature a gold seal to commemorate the release. In addition to the 500 180-gram copies, Mightier Than Sword will also press 500 each on clear red, clear blue and clear colors.
The official release date is set for December 1, but the label will begin taking pre-orders this coming Monday, October 19th.
Enema of the State was originally released in 1999 on MCA and featured some of Blink-182's biggest hits to date, including "All the Small Things," "What's My Age Again?" and "Adam's Song." It went on to sell 15 million copies worldwide.