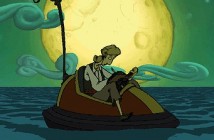 Rehasher recently posted a bulletin regarding their sophomore album, High Speed Access To My Brain. The band, which features Roger Manganelli of Less Than Jake, had this to say:

If you had to guess, how many Rehasher CDs were sold in the first month? The actual number is 60 CDs. Illegal downloading is killing bands, and a band like Rehasher feels it. I have found some download sites and added up over 3000 illegal downloads of the new record. With over $3600 invested in the making of the new record, the light at the end of the tunnel is very, very dim.

So, why don't we tour? Because, we would not be able to pay our bills. No one buys music, it's just accepted that you pay for your iPod or your computer, but the content, the music and movies,, Everyone just accepts that as "free" and there is no way to stop anyone from breaking those laws.

If you were one of the 60, thank you. i hope you enjoy the record. If you were one of the 3000, i still hope you enjoy the record, but, fuck. you suck.