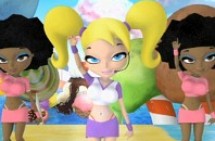 Alt-county songstress Neko Case is starring in a new show for Adult Swim that recently won a fan vote to be picked up for a full season. The show is titled Cheyenne Cinnamon and the Fantabulous Unicorn of Sugar Town Candy Fudge and Case provides the voice of the titular character, who according to show creator Dave Willis is "a Strawberry Shortcake pop princess that lives in a candy wonderland just outside of Detroit. She comes into Detroit and helps solve problems of racism and teen pregnancy with the power of love and teen pop songs."
Case won't actually sing the songs on the show; instead, her character will lip-synch them while a decidedly different voice sings all the songs. Many of the songs for the show will be written by Butch Walker.
The pilot can be seen here; it's scheduled to air on television on May 9.