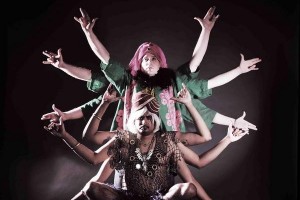 While final confirmation from the band is forthcoming, Canadian music site Chart is calling it a day for celebrated garage rock duo The King Khan and BBQ Show. The site is reporting that a show earlier this month at Australia's VIVID Live festival ended in ruin with a "huge screaming match" between the duo. Further shows in South Korea last week were up in the air as well, with promoters claiming that the band was done (BBQ played the dates solo).
Of course with this act it's always questionable what's real and what's theatre, so it remains to be seen if King Khan and BBQ appear together at the Khan-curated Sled Island Music & Arts Festival in Calgary next week. Both musicians are also part of The Almighty Defenders along with members of the Black Lips, and the Almighty Defenders are on the bill alongside Hot Water Music, Fucked Up, Melvins, The Thermals and many others.
Arish "King" Khan and Mark "BBQ" Sultan are alumni of mid-90s Montreal garage punk acts the Spaceshits and Les Sexareenos.