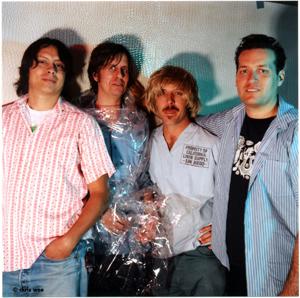 Earlier this week, the original lineup of Hot Snakes reunited for the encore set of The Night Marchers and Obits show at The Casbah in San Diego, CA; the two bands feature former members of the group, with guitarist Rick Froberg part of Obits and vocalist/guitarist John Reis, bassist Gar Wood and drummer Jason Kourkounis currently performing in The Night Marchers.
You can click Read More for the videos, which include performances of "No Hands," "If Credit's What Matters" and "Automatic Midnight."
Hot Snakes called it a day in 2005 after six years and three studio albums. Their final release was the Peel Sessions EP.