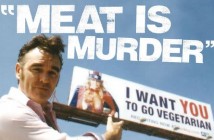 Both Morrissey and Johnny Marr of The Smiths have condemned British Conservative Party Prime Minister David Cameron, after Cameron stated he was a fan of the band. Morrissey sent the following statement:

To those who have expressed concern over Johnny's words in view of the fact that David Cameron has pledged immense allegiance to the music of the Smiths, I would like to try to explain why I think Johnny is right not to be flattered…It is true that music is a universal language – the ONLY universal language, and belongs to all, one way or another. However, with fitting grimness I must report that David Cameron hunts and shoots and kills stags – apparently for pleasure. It was not for such people that either 'Meat Is Murder' or 'The Queen is Dead' were recorded; in fact, they were made as a reaction against such violence.
Morrissey, who has been vegetarian for 40 years, was particularly angry about Cameron's support for repealing the Hunting Act, which would allow hunting of many previously protected animals in the UK.
Left-leaning and progressive musicians have often been critical of conservative politicians who try to co-opt the band's image by citing the band or using their music in campaign materials. In 2008, a number of American musicians including Heart, Jackson Browne, Van Halen and the Foo Fighters objected to John McCain's use of their music. Conversely, artists like Fall Out Boy, Bruce Springsteen, Billy Joel, Jon Bon Jovi, the Grateful Dead all arranged benefits for President Obama.