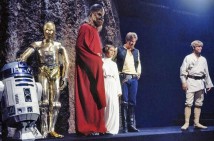 Lists, lists, lists. We have a lot of them. Most of you enjoy reading them. Today we have entries from Reaganomics/Ryan's Hope axeman Terry Morrow, Bob Barnett and Bill Orender of Captain, We're Sinking and PJ Bond.
Terry Morrow (Reaganomics, Ryan's Hope)
Albums:
Finntroll "Nifelvind": Finnish metal that I want to dance to.
Riverdales "Tarantula": I like my punk simple.
Dimmu Borgir "Abrahadabra": Norwegian black metal. Imagine any scene from Dark Knight, now add Satan.
Smoking Popes "It's Been a Long Day": All old songs, but still better than everything else people seem to be raving about these days.
Robert Plant: "Band of Joy": He can do what he wants.
How to Destroy Angels "S/T": Trent Reznor and his wife? Sounds like sex nightmares. 5 Stars.
Shows:
Willie Nelson at Rialto: 10 Hank Williams covers in a row, the smell of spice in the air, and Willie said Joliet.
Elvis Costello at Chicago Theatre: Opened with "Red Shoes." Lady next to me had to have yelled "ALLISON!" at least 35 times.
Cobra Skulls at Subteranean: I got really sweaty, and I creeped out the band!
Roger Waters at The United Center: Roger looks like the poor-man's Richard Gere, but he delivered.
Other:
Red Dead Redemption: I was just happy riding the horse, then I realized I could shoot.
Opeth "Live at the Royal Albert Hall" DVD: Best if viewed with a fog machine and sufficient stereo speakers.
Bob Barnett and Bill Orender (Captain, We're Sinking)
Bob Barnett
1. Titus Andronicus - The Monitor
2. Arcade Fire - The Suburbs
3. The Menzingers - Chamberlain Waits
4. John K. Sampson - City Route 85/Provincial Road 222
5. Tigers Jaw - Two Worlds
6. Against Me! - White Crosses
7. The Hold Steady - Heaven is Whenever
8. The Holy Mess - Benefit Sesh
9. The Gaslight Anthem - American Slang
10. Look Mexico - To Bed to Battle
Bill Orender
1. The Greek Favourites/Glocca Morra split CD/Tape/7"
2. Tigers Jaw - Two Worlds
3. Dead Radical/Republicorpse split 7"
4. 1994! - FCKYRHED
5. The Holy Mess - Benefit Sesh 7"
6. Glory Bound - This Too Will Fade
7. Vaccine - Human Hatred 7"
8. Punch - Push/Pull
9. Grown Ups - More Songs
10. End Of A Year S/T or Descend, Bold Traveler 7"
11. Picked Clean - Life Sucks, Hardcore Rules 7"
My top 10 favorite moments of 2010, in no particular order:
01. Chason ending rad fest by standing in a garbage can, pulling his pants down and whipping his dick around while i played "lori meyers" in front of the soapbox.
02. FEST! but specifically watching mikey erg sing c-lo's "fuck you" to a sea of lovely drunk, smiling punks.
03. Almost dying from choking on chinese herb pills, while on tour with koji, and then not dying. The latter part was way better than the former.
04. Taking a full band on tour, and going by the name, "pj bond and some motherfuckers."
05. Still not having a real job. (though, being broke all the time kind of sucks.)
06. Spending the summer in asheville, NC, living with my brother and his wife, making loads of new friends, eating out of a garden, brewing beer, etc.
07. Hearing new communipaw records.
08. Beginning the recording of my 3rd LP.
09. Traveling through india.
10. Touring europe for the first time.
2011 will definitely prove awesome for two bands:
the menzingers will take over the world and communipaw will finally get the attention they're due, and will blow minds.