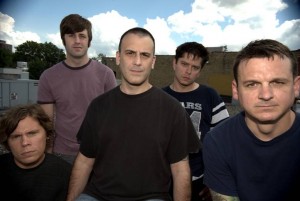 Ben Weasel, the iconic frontman of Screeching Weasel, was in an altercation last night during his band's performance at this year's South By Southwest festival in Austin, TX. The L.A. Times account of the incident is as follows:

It's a "a carnival of schadenfreude" Weasel said of SXSW, and repeatedly said he regretted coming. Yet the contentious atmosphere turned more aggressive by show's end, with Weasel ultimately jumping into the crowd, allegedly to confront a woman who had hit him in the face with ice.

Another woman, who security staff said was one of the venue's owners, ran on stage to break up the fight. Weasel was soon dragged off the stage by security. He left the venue before he could be tracked down by reporters, and has not yet returned a call requesting comment.
You can check out video of the incident below by clicking Read More.