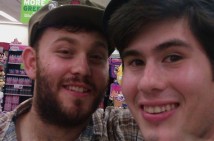 Punknews.org happy to add another ongoing podcast to our growing network. Please welcome Matt & Mondo's Punk Rock Power Hour to the family. Matt Baldwin and Armando Olivas first discussed the idea of a podcast while participating in a drunk night swim at a hotel pool in Orlando during a pre-Fest 9 trip in October of 2010. When the two got home to Southern California, they decided "what the hell" and created Matt and Mondo's Punk Rock Power Hour. In the ten months of the podcast's history, Matt and Mondo have been joined by members of The Gaslight Anthem, Descendents, Dead To Me, Against Me!, Fake Problems, Street Dogs, The Loved Ones, Dead Milkmen and The Menzingers among others.
Their most current episode features interviews with Jack Terricloth of World/Inferno Friendship Society, Matt Kelly of the Dropkick Murphys and Bill Stevenson of Descendents/ALL/Black Flag.
The hour long podcast is released every Friday. You can click Read More to stream and/or download the show, subscribe via RSS and follow updates on Twitter.