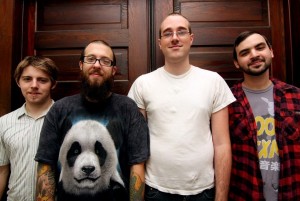 Tiny Engines have announced the swelling of their ranks with Gainesville's Dikembe. The label had this to say:

"Tiny Engines (Tigers Jaw, CSTVT, Look Mexico, Restorations) is stoked to welcome Gainesville, FL's Dikembe to its growing family of bands. The label will release the quartet's debut full-length, 'Broad Shoulders', on 12" vinyl and digital formats in early 2012. Pre-orders will launch at the beginning of December.

Featuring front man Steven Gray and bassist Ryan Willems from fellow Tiny Engines roster mates Wavelets - as well as members of Senders (Kiss of Death) and The Young Hookers - Dikembe is putting the final touches on the 11-song LP, which is its first official physical release. Earlier this year the outfit released a free digital EP, Chicago Bowls, to a good amount of blogosphere and message board acclaim. You can download those four songs here."
Alt Press are hosting a stream of "Librarians Kill For That Kind of Quiet" here.
PunkNews posted an excusive live video of "Sorry I Can't Stick Around" in August.
For those of you at Fest, Dikembe are due to play Loosey's on Sunday from 7:40pm to 8:10pm.