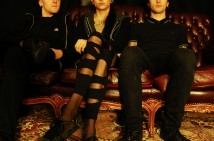 French hardcore outfit Birds In Row recently signed to Deathwish Inc. but before their debut for the label, they will be compiling their previous releases on a new compilation titled Collected and due out January 17, 2012 on Vitriol Records, the LA label founded by Justin Smith of Graf Orlock, Ghostlimb, and Dangers.
Check out a song titled "A Kid Called Dreamer" here.
The band is booking a US tour and expect to be stateside by the Spring.