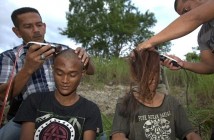 Global Post has assembled an article and some interviews documenting the aftermath of the shocking arrests and "reeducation" of punks in Aceh, Indonesia in mid-December. Of particular concern is that Aceh's ulama - a council of Muslim scholar - would like to establish a holy law or quanun banning the "punk-rock lifestyle."
23-year old Jarot Susant shared his experience with the journalists:

As we were arrested, I got beat up. We couldn't fight back. We just let ourselves go. I just wanted it to stop. It's a permanent heartbreak.
The feature also includes some comments from the "Muslim scholars" who suggest "community standards" are the issue, saying:

This is our community. And in this community, you're not allowed to act like that. Tattoos? Piercings? Dyed hair? That's weird for Aceh. We're not ready for it. It's not human-rights abuse. It's guidance.
And the punk scene described is a far cry from the amplified full bands that are typical in the rest of the world. Most of the Aceh punks are "pengamen" which is a sort of busking where groups of musicians will perform with an acoustic guitars or a single ukelele. The sound is closer to Woodie Guthrie but with lyrics inspired by bands like Nausea.
Check out the feature here.