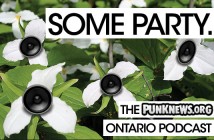 On this, the second episode of Some Party: the Punknews.org Ontario, host Adam White continues to explore independent music from the Org's home province of Ontario, Canada. Once again we present an eclectic mix of local punk rock, alt-country, folk and some more difficult to categorize offshoots.
On this episode we feature music from Crusades, Wayfarer, Elliott Brood, Bry Webb, Baby Eagle and The Proud Mothers, TV Freaks, Julianna Riolino, The Penske File, The Creeps, Sparrows, Cousin, The Dirty Nil, and Shit From Hell. You can find the full track listing below.
Click Read More to stream and/or download the show, or subscribe via RSS (MP3 / Enhanced AAC) or via the iTunes Store. We're also looking for bands for the next episode and invite you to submit a few here.
Some Party: The Punknews.org Ontario Podcast - Episode 2
Track Listing