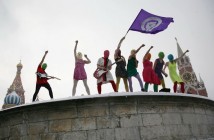 The Telegraph is reporting that three members of the Russian feminist punk collective Pussy Riot are being held in prison following their arrest last month, and that a judge "refused a defence request to release the trio on bail pending trial and extended custody until June 24th." The three face up to seven years in prison, if they are convicted of the charge "aggravated hooliganism." The three women in question previously denied involvement in the February 21st anti-Putin protest that led to their arrest.
At a hearing on Thursday, one of the arrested members, Nadya Tolokonnikova, requested a release on bail to care for her four year old child. Her request was denied. Also speaking at the hearing were Tolokonnikova's husband, as well as Russian writer Dmitry Bykov. Bykov called for western leaders to speak out against the treatment the three women have faced, saying "In the Brezhnev era dissidents always knew they had support abroad. Now you are sitting by as three young women are effectively tortured."
Police also detained approximately twenty protesters outside the court. According to reports, most of the protesters were released by the evening.