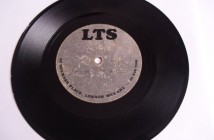 Another copy of the rare Sex Pistols acetate original for God Save The Queen has gone up for auction. The last one to sell went for £14,600 (Approximately US $22,704) and current bidding has topped £8,600 (around $13,295 USD) Like the previous acetate, the 7-inch is a promotional acetate featuring the controversial song "God Save the Queen" and "No Feelings" on the L.T.S. label and is - according to the seller - one of the only two copies known to exist.
An A&M promo of the same song from the brief era when the Pistols were signed to A&M before jumping ship to Virgin previously sold for £11,100.00 ($17,509.14 USD) but was somewhat more common, having been giving to A&M executives prior to the company's closing in 1998. The timing of the sale is pretty interesting, given the original single was released to coincide with the Queen's 1977 Silver Jubilee. Attention is understandably high considering she is celebrating her diamond jubilee this year.
Check out the auction and decide if the vinyl is worth more than a 2012 Camaro or say, an appendectomy.