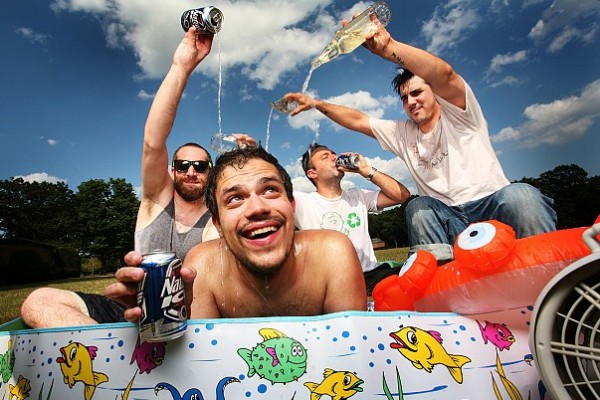 Bomb the Music Industry! frontman Jeff Rosenstock announced on BtMI!'s tumblr that their current tour will most likely be their last.
There's a very very good chance this upcoming US tour is going to be our last time coming through most of these cities. We all still love each other and love playing music together. There's no weird rifts or anything. To put it simply, the 9 - 10 months or our lives when we are not playing music are not fantastic.
The news isn't all sad though, because Rosenstock also included a new demo from Bomb the Music Industry! that he finished a couple months ago entitled, "80's Through The 50's."
To put it complicatedly, those months are weird vortexes (vortices?) of time where we float in between weird jobs that further us in very little ways as human beings aside from you know, the thrill delivering ten sheets of plexi to celebrity photo shoots (glamorous!) or the satisfaction of doing sound for another Green Day cover band (very glamorous!)… it seems like it's just time to see if there's anything out there that can provide us with full-time joy instead of part-time joy.

Keep in mind that Bomb the Music Industry! was never really supposed to be a touring band that put out records, had a steady line-up, made money off of anything, continued anywhere outside of our houses. If it weren't for the incredibly kind, warm and VERY VERY ENTHUSIASTIC people who have come to see us over the years, we probably would have never really given a shot at touring or playing shows outside of the northeast. And as an added bonus, we've met like, all of our best friends scrambling around the country in a van. It's pretty neat that if we ever feel like running away from all of our problems here in New York and flee to Montana or something, we can call up Grant and go "yo, what's up, let me crash tonight?" And as a triple-double bonus, the last year or so we've made enough money off of this for it to pay a portion of our bills. Didn't see that coming
In the entry Jeff mentions a possibility of touring in the far future.
Also keep in mind that things change. I don't want anyone to think this is some kinda hoax to get people to see us on this trip or whatever, especially if we end up coming back through your town. We are beautiful complicated fucking snowflakes that blow wherever the wind takes us and you better fucking respect that shit, maaaan. That means we get to take this back if we wanna. Million-Day Return Policy. No questions asked.
Despite closing the book on tours at the moment, Bomb the Music Industry! still has other plans brewing including a possible hardcore record in September.