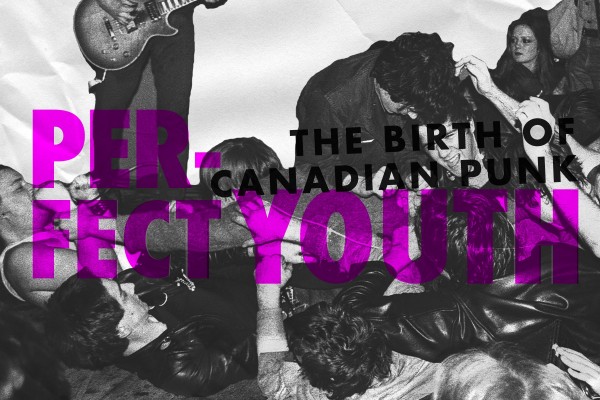 We've partnered up with author Sam Sutherland and ECW Press to give our readers an exclusive excerpt from Sutherland's upcoming book, Perfect Youth: The History of Canadian Punk. Sutherland is a Toronto-based journalist, currently working as an online producer for AUX.tv and is a former assistant editor at Exclaim! Magazine. According to the publisher, Perfect Youth is:

…the story of the birth of Canadian punk, a transformative cultural force that reared its head across the country at the end of the 1970s. Bands like D.O.A., the Subhumans, the Viletones, and Teenage Head -- alongside lesser-known regional acts from all over Canada -- reshaped a dull musical landscape, injecting new energy and new sounds into halls, bars, and record stores from Victoria to St. John's.
Copies of the book are available directly from ECW, as well as from Amazon and Barnes & Noble.
Get Modern or Get Fucked
The Modernettes and The Young Canadians
April 3, 1980, 10:30p.m. MST
The Edmonton Oilers are out of town. Tonight, the Northlands Coliseum is filled with pimpled-faced teens, here to see Irish rockers the Boomtown Rats. The kids are on their feet and waiting for the opening piano trills of the band's controversial school shooting anthem "I Don't Like Mondays" to fill the huge hockey arena. When Bob Geldof and other non–Bob Geldof members of the band finally hit the stage, the room erupts. Lights flash, sweat flies off the band. It's enough of a sensory overload that no one in the Boomtown Rats feels the gentle mist that begins to fall all around them. As the sax solo that begins "Rat Trap" rips through the arena and across centre ice, Art Bergmann from the Young Canadians stands on the catwalk above the headliners. The lead vocalist for the smart ass punk trio from Vancouver who somehow lucked into the opening slot for the Rats' west coast tour, he stares down at the band from the roof of one of the oldest venues in the National Hockey League. He unzips the fly of his jeans and lets loose a torrent of piss. No one ever knows.
Having a conversation with Art Bergmann feels kind of like communicating with Hunter S. Thompson's immortal wave from Fear and Loathing in Las Vegas. Bergmann's history reads with all the promise of Thompson's Nevadian high water mark, with all the energy and potential of a generation breaking and drifting back into the ocean. The creator of some of the most enduring Canadian punk anthems of the '70s and greatest aberrant rock songs of the '80s, Bergmann was always viewed by those around him as the giant who would eclipse his peers, a great artist destined for a place in the Northern Songwriter Pantheon. Today, he is crippled by arthritis that prevents him from performing, a source of endless frustration that, along with the rapid decline of his hearing, has led him to abandon his interest in music altogether. Most days, our conversations veer passionately from Russian military history to the local politics of his current home province of Alberta. He refers to his time as a musician as "less of a career than a series of misunderstandings with the Canadian music industry." He's writing, but he says it's more "weird dreams, bits of lyrics," although he hopes to assemble it into something readable eventually. He may be done with music, but with the right kind of eyes and a working record player, you can still see a high water mark on East Hastings Street in Vancouver, the place where Bergmann first broke and fought like hell before rolling back into small-town Alberta.
Early in my first conversation with Art, he asked me if I was looking for "facts or funny." I told him I was as interested in the myths as anything else. He told me I had given the right answer. "I can't believe the shit I've heard about myself," he said. Neither can I.
In the early 1970s, Art Bergmann joined the Mount Lehman Grease Band. A party pub band, they were as well known for their live performances as the bucket of assorted liquor and drugs readily available at their shows, the legendarily night-ending Mount Lehman Brew. The band was headquartered in Abbotsford, B.C., but played dances and parties all over the lower mainland. A recent high school graduate, Bergmann's first experience with public performance and the inherent perks of a job as a musician was the Grease Band; one of his only clear memories of playing with the band is of a stranger pouring a 26-ounce bottle of vodka directly into his mouth mid-show.
John Armstrong attended the same high school as Bergmann in Surrey, just outside of Vancouver. A few years his junior, Armstrong had taken a shine to Bergmann at one of his raucous Grease Band gigs; when Bergmann split for White Rock, a seaside town just south of Surrey and across the border from the United States, Armstrong dropped out of school and followed soon after. Says Bergmann of Armstrong, "He thought I was a star before I thought I was." While the former taught the basic mechanics of songwriting and chords to the latter, it was Armstrong and his friends who introduced Bergmann to the new sounds coming out of New York, London, and, increasingly, nearby Vancouver.
In White Rock, Bergmann formed the Schmorgs, while Armstrong and his younger friends played under a constantly changing banner, often known as the Shits, and, later, the Monitors. Not exactly a punk hotbed, the small city still provided the band with an eager audience. "White Rock has its own little scene of derelicts and addicts," says Bergmann. "And a biker gang called the Gypsy Wheelers. They were the meanest bunch of sons of bitches you could ever meet." Both the Schmorgs and the Shits played numerous Gypsy Wheeler rallies and parties, often getting paid in a mix of cash and cocaine. "And we'd have to go to the after party," he says. "At their place, if you didn't drink, they had a guy whose job it was to club you with his huge crescent wrench. He said, 'Drink up, you slugs.'"
The bands also played the infinitely more wholesome Spirit of the Sea festival, an annual tradition in White Rock. The Shits played twice, and twice received lifetime bans from the Semiahmoo Bay bandstand. Their final year, a band from Vancouver came down to play. A rough-edged punk outfit called the Skulls, it was the first significant sign to the White Rock gang that something really exciting was going on in Vancouver.
"After that, we were on the bus every weekend to Vancouver," says Armstrong.
"White Rock was just wretched," says Bergmann. "So we all packed up our paper bags and moved to the city."
Once the White Rock crew moved to Vancouver, they played one show together as the Frantic Technicians before splitting; Armstrong joined Active Dog, and Bergmann started assembling his own band. Vancouver offered a million more opportunities for the group — for an audience, a scene, and, naturally, some serious fucking trouble.
"I went downtown by myself and I was kind of wandering the streets," says Armstrong. "There was this drunk with a case of beer, and he was trying to hail a cab. He kept walking further and further away from his case of beer. I said, 'If he goes one more foot . . .' And he did. So I grabbed the case of beer and took off.
"I heard someone yelling, so I looked over my shoulder and there's this big tall guy chasing me and I thought, 'Fuck, I'm a dead man.' I ran down the street and down an alley. Eventually, I couldn't run anymore and I just stopped. I split open the case of beer and grabbed one, ready to break it and defend myself. And it was Dave Gregg, from D.O.A. It wasn't some guy coming to kill me. He said, 'Fuck, that was great! Do you want to go to a party?'" Gregg took Armstrong to his inaugural warehouse show, his first exposure to the Dishrags and D.O.A., who had just completed their metamorphosis from the Skulls, one- time White Rock festival visitors.
Vancouver didn't just offer a thriving punk scene, but an opportunity to see some great touring artists, a major attraction for guys like Bergmann and Armstrong, both of whom had a nursed a strong education in the blues and the foundations of rock and roll while killing time in their small-town dead-end day jobs. A visit to see veteran rocker Mitch Ryder wouldn't provide the exact high the pair had expected, though.
"There used to be guys who would drive around in cars and queer bash on the west end," says Bergmann. As with other cities across North America, '70s queers included any visible outsiders, something most early punks certainly were. "We were still new to the city then, and we were oblivious to it. These guys came racing past us and just about ran us over, and of course we yelled out, 'You fucking cunts!' They came back around the next block and beat the shit out of us with crowbars and tire irons. I ended up with a broken jaw." Bergmann had his jaw wired shut for a month, stalling his new band's first show. The important lesson, according to Bergmann (who was more than happy to indulge in the serious dosage of painkillers his injury afforded him), was to "not go to any more Mitch Ryder shows."
While Bergmann was laid up at his parents' house, Active Dog was falling apart, leaving Armstrong to seek revenge on his bandmates by forming his own band and, for the first time, writing his own songs. Introduced to a drummer named John McAdams, the pair agreed to meet up at a rehearsal space McAdams was renting. Things got off to a prodigious start when Armstrong showed up early, drunk, and high on speed, couldn't get inside, and opted to break the door down rather than wait for McAdams, who he complains is "always late anyway."
"I got there and was like, 'What the fuck is this? Guess I'm going to have to fix this damn thing,'" recalls McAdams. "But we started to play and it clicked real well."
"The place looked like it was hit by a cannon shell," says Armstrong. "And I said, 'I had a little trouble getting in.' I'm amazed that he hung around after that. 'This was a regrettable accident. Poor judgment on my part. Also, do you have any money? We need some beer.'"
While the band rotated through a series of lead guitar players and bassists, a bond between McAdams and Armstrong quickly formed; McAdams was christened "Jughead," thanks to his passing resemblance to the Archie character, while Armstrong reinvented himself under the pseudonym of Buck Cherry (a spoonerism of rock pioneer Chuck Berry), a name he maintains to this day; almost everyone I talked to about him simply referred to him as "Buck." It wasn't just punk names being formalized; now under the moniker of the Modernettes, Buck and Jughead were afforded their first real show when someone at a party offered them the chance to open for the newest iteration of Vancouver's first punk band, the Shades.
"They said, 'You should open for us.' I said, 'Sure,'" recalls Armstrong. "And then I went, 'Fuck, I've got to get a bass player.' We decided we were just going to have a Sid Vicious cardboard cutout onstage and play without a bass player." With just one week to go before the band's debut performance — where a cardboard cutout would be holding down the low-end — Armstrong met a cute girl a party. A cute girl who, by a brilliant stroke of luck, could also play bass.
"A cardboard cutout of Sid Vicious as their bass player!" Mary Armstrong laughs incredulously at the band's original plan. A cheerful fixture of the nascent Vancouver punk scene, Mary's early teenage years were anything but easy: she was a runaway at 13, and bands like the Subhumans had helped her find safe places to stay. In a city with a harsh underbelly, the kindness likely saved her life. It was the Subhumans' guitarist, Mike Normal, who co-signed for her first bass, and their drummer, Dimwit, who helped Armstrong hone her chops through endless practice in the band's rehearsal space. When the opportunity came to put her passion into practice, she jumped at it.
"They took care of me until I kind of had my shit together," Mary says of the Subhumans. "It was pretty cool. I was lucky." She pauses for a while. "I was one of the lucky ones."
With a solidified rhythm section, the band was able to pound out a six-song set of original tunes Armstrong had been working on since moving to the city. Punk in their delivery, the songs were firmly rooted in the rock and roll basics Armstrong had been taught under Bergmann's watchful eye, taking the power-pop approach of local favourites the Pointed Sticks and stripping away the flourishes and fancy musical accoutrements, leaving power chords, 16-note driving bass rhythms, and four-on-the-floor drums in their place. The Modernettes' sound was stuck somewhere between '77 and '59, a characteristic that helped turn a cheeky name into something unexpectedly rich in irony. Listening to the band's songs, the influence of other Vancouver bands is apparent. But so is Mitch Ryder. It's a powerful mix that, combined with Armstrong's natural charisma and Mary's potent sex appeal, made the band one of the scene's most popular bands almost overnight.
Excerpt from PERFECT YOUTH: The Birth of Canadian Punk By Sam Sutherland, ECW Press 2012.
All rights reserved. Used with permission from the publisher.