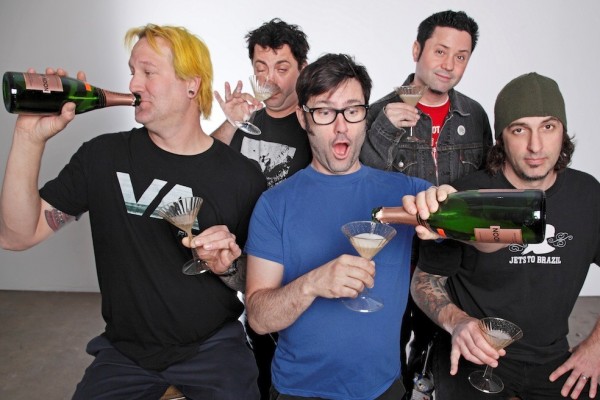 Lagwagon, currently on tour in Australia, ran into a bit of drama this past weekend in Newcastle, when a "fan" had a poster signed by the band and then went and stole Chris "Leon" Rest's guitar. The band stated on their Facebook:

Had a great time tonight @ the Cambridge Hotel in Newcastle. Thanks to all who came out minus the fuck wit who walked off with our guitar player Leons Les paul Thankfully and unbelievably , while we were spotting him on the surveillance cams outside with police he showed up to retrieve guitar he had ditched in bushes with his car ..As we alert police and start chasing down street he speeds off only to turn around when police tell him to stop. Low and behold guitar in its giant orange road case are spotted in back of white station wagon. Our guitar player didn't press charges for some reason (probably cuz he's a real nice guy), but the police hopefully will get him for a drunk driving. This is same guy who had us sign a poster earlier. Very thankful to have guitar back as its been with Chris"Leon" Rest for a very long time and one the worst things that can happen on the road ,beside injury, is having your gear stolen. I'm sure this Karma will come back to bite this guy. This tour has been going great and certainly don't want some fuck tard thief to sour it. Again , thanks to all the great folks who came out and raged at gig tonight and all the staff @ Cambridge Hotel and of course the Police. Your all aces. Alls well that ends well. Goodnight…
This tour wraps this weekend in Australia.