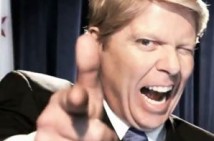 The Bicycle Music Company - a catalogue company which includes A Change of Pace, All That Remains, Chelsea, Hatebreed, Johnny Cash, Killswitch Engage, Ministry, Nine Inch Nails, Shadows Fall, Sublime, Supernova, The Classic Crime, The Cramps, The Fall, The Muffs and Third Eye Blind among their roster - has picked up Nitro Records and the punk label's back catalogue. Nitro is most well known as the label founded by The Offspring's Dexter Holland and home to many of AFI's releases.
Along with their most famous alumni, the label released music from Jughead's Revenge, The Vandals, Son Of Sam, Guttermouth, AFI, Ensign, Exene Cervenka and the Original Sinners, Stavesacre, Rufio, Don't Look Down, T.S.O.L., The Damned, A Wilhelm Scream, theSTART, The Letters Organize, Bullet Train To Vegas, The Aquabats, Crime in Stereo, No Trigger, Hit the Switch, Much the Same, and 30footFALL.
Holland talked about the status of the label last year describing it as "mostly a catalog label now" so the move to Bicycle will not really represent much of a change in business.