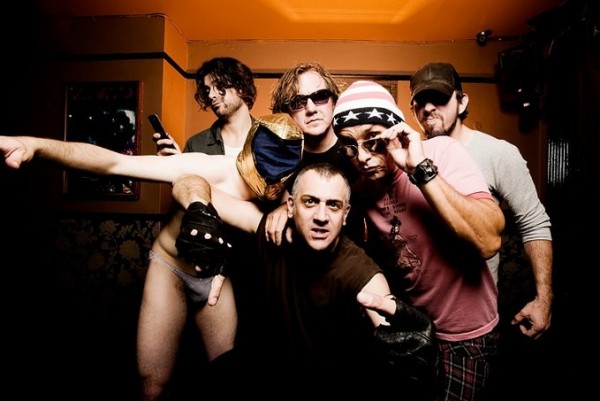 Those purveyors of sex, drugs, and rock 'n' roll, The Dwarves have announced a vinyl re-issue of 1997's The Dwarves are Young and Good Looking via Recess Records . The re-issue is titled The Dwarves are Younger and Even Better Looking and comprises a two record set which includes 20 bonus tracks, including a live radio set, vocalist Blag Dahlia's solo EP, and b-sides.
You can peep the naughtiness (NSFW) here .
Punknews spoke to Blag Dahlia about his legacy, recently .
The Dwarves Are Younger and Even Better Looking Track Listing:
Unrepentant
We Must Have Blood
I Will Deny
Demonica
Everybody's Girl
Throw That World Away
Hits
The Ballad Of Vadge Moore
One Time Only
Pimp
The Crucifixion Is Now
You Gotta Burn
The Dwarves Are Young and Good Looking
Let's Take A Ride (Bonus studio track)
The Wicked (Bonus studio track)
Haunt Me (Bonus studio track)
Theme From The Vicelords (Bonus studio track)
Star 69- A Million Miles (Bonus studio track)
Ask Me Why (Bonus studio track)
Come Gunnin (Bonus studio track)
Lord of the Road (Bonus studio track)
One Time Only (Alt Version)(Bonus studio track)
Throw That Girl Away(Bonus studio track)
Unrepentant (live radio broadcast bonus track)
We Must Have Blood (live radio broadcast bonus track)
Everybody's Girl (live radio broadcast bonus track)
Demonica (live radio broadcast bonus track)
Smack City (live radio broadcast bonus track)
You Gotta Burn (live radio broadcast bonus track)
Back Seat of My Car (live radio broadcast bonus track)
Dairy Queen (live radio broadcast bonus track)
Drug Store (live radio broadcast bonus track)
Fuck 'em All (live radio broadcast bonus track)
I Will Deny (live radio broadcast bonus track)
Surfing the Intercourse Barn (Spoken word track)