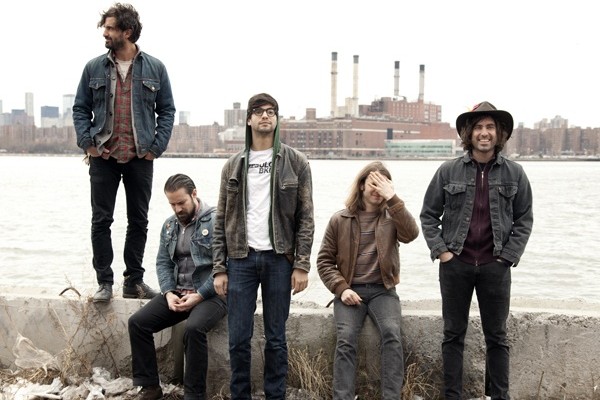 The Men continue to be prolific; having just released their last full-length New Moon in March of this year, they've now announced plans to issue a new EP titled Campfire Songs on October 15, 2013 via Sacred Bones.
The five songs were recorded during the New Moon sessions and, as one might surmise by the EP's title, are all acoustic. In addition to new songs "Patience" and "Turn Your Color," Campfire Songs will feature three unplugged takes on recently released material: "I Saw Her Face" and "The Seeds," both from New Moon, as well as "Water Babies" from their Electric 7-inch.
Both the new version of "The Seeds" and the Men's upcoming tour dates can be seen below.
| DATE | VENUE | CITY |
| --- | --- | --- |
| 09/02/13 | Bumbershoot | Seattle, WA |
| 09/03/13 | Biltmore Cabaret | Vancouver, BC |
| 09/04/13 | Northern | Seattle, WA |
| 09/05/13 | Dante's | Portland, OR |
| 10/10/13 | The Echo (Culture Collide Festival) | Los Angeles, CA |
| 10/12/13 | Middle East Upstair | Cambridge, MA |
| 10/13/13 | The Bug Jar | Rochester, NY |
| 10/14/13 | The Loving Touch | Detroit, MI |
| 10/15/13 | Kobo Live | Columbus, OH |
| 10/16/13 | The Bishop | Bloomington, IN |
| 10/18/13 | Logan Square Auditorium | Chicago, IL |
| 10/19/13 | Club Cafe Life | Pittsburgh, PA |
| 10/20/13 | Horseshoe Tavern | Toronto, ON |
| 10/21/13 | Ill Motore | Montreal, QC |
| 10/22/13 | Johnny Brenda's | Philadelphia, PA |
| 10/23/13 | The Saint | Asbury Park, NJ |
| 10/26/13 | Cactus Club | Milwaukee, WI |
| 11/05/13 | Music Hall of Williamsburg | Brooklyn, NY |
| 11/08/13 | Fun Fun Fun Fest | Austin, TX |
| 11/09/13 | Fun Fun Fun Fest | Austin, TX |