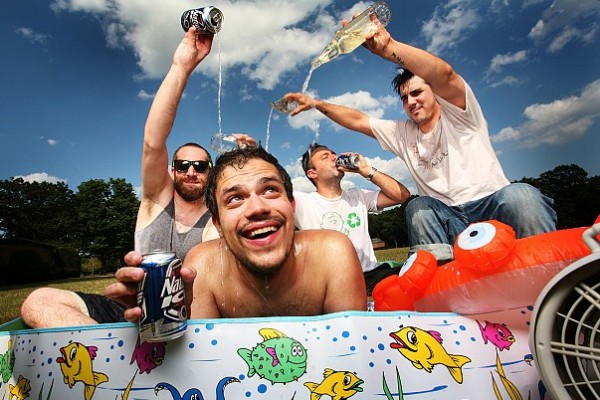 Never Get Tired: The Bomb the Music Industry! Story , the documentary following the band directed by Sara Crow, is raising funds for its final production. The documentary crew previously raised money to buy a camera, but are now working on the final push to raise funds for final editing. Crow stated to punknews:

I finished shooting the documentary in January. I worked on it pretty much full-time for five years. I put it on Kickstarter in 2010 and asked for enough money to buy a camera. After I got the camera, I spent all my savings from shitty jobs in coffee shops to make it happen. I went on four tours-I think I have like 300 hours of footage. Needless to say, I've been very broke for a long time. Now the movie is shot and I'm going into post-production. I thought I could do it for super super cheap because I did everything for super super cheap, but turns out post on a documentary of this size is very expensive. Like $30,000 expensive. I'm asking for $25,000 and going to figure out the rest with a maxed out credit card. My concern is that people might not understand how much it costs to edit a documentary like this.

Here's our cost breakdown:
editing costs-$8,500
digital storage/hard drives-$1,000
edit supplies-$500
on-line color correct-$6,000
audio mix-$8,000
graphics-$1,000
You can check out the kickstarter here and you can also click read more to see the doc's trailer.