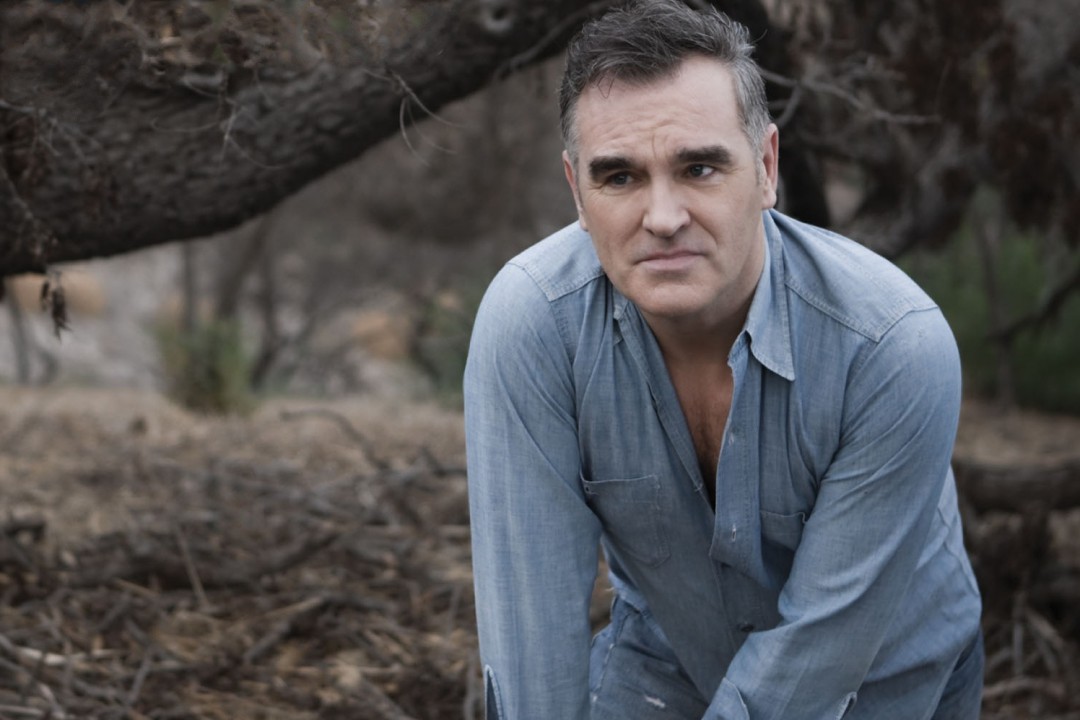 Morrissey has canceled his latest tour, the third cancellation in the last two years. The cancellation follows several postponed dates. Morrissey cited health issues.
Somewhat bizarrely, his Moziness may be blaming opening act Kristeen Young for causing him to get sick. Even stranger, Young responded with an extended post insisting that she did not get Mozstradamus sick. Morrissey is expected to release World Peace is None of Your Business on July 15.
You can click read more for the weird, online exchange.
First, on canceling the tour, Morrissey stated via his facebook:

"It is with great sadness that the remainder of the US Tour has been cancelled. The respiratory infection Morrissey contracted in Miami has worsened, and in the interest of making a full recovery, all further touring plans have been halted. Morrissey thanks his fans for their compassion, understanding, and well-wishes during this difficult period as he recuperates."
Then, a second statement followed on Morrissey fan site True to You. However, it is unclear if the statement is from Morrissey himself or is just speculation. Other publications are attributing the statement to Morrissey himself, as is Young. But, it should be noted that while Morrissey does regularly post on True to You, he usually puts his name at the end of the post- but not always. This post is not "signed" by Morrissey, so it is unknown if this statement was given His Royal Mozjesty's seal of approval.

Morrissey announces the close down of the present U.S. tour with "unimaginable sorrow". On Saturday, June 7th, following the show at Boston Opera House, Morrissey collapsed and was rushed to Massachusetts General Hospital where doctors treated Morrissey for "acute fever". Difficulties had arisen on May 31st following Kristeen Young's opening set at the Miami Knight Concert Hall, after which Kristeen confessed to "a horrendous cold", the symptoms of which were passed on to Morrissey resulting in the cancellation of the next show in Atlanta. For the good of all, Kristeen was asked to step down from the immediate upcoming shows, but instead she decided to leave the tour entirely. Morrissey and the band wish her well and hope she is now in good health. Morrissey received medical attention in Miami, and once again in Boston, but it was not enough to shake off the virus, the recovery time for which is too lengthy to meet the final 9 shows of the tour. Morrissey and the band are otherwise delighted and very grateful for their experiences on the U.S. tour, some shows of which they considered to be their best-ever, most notably: 1 BOSTON Opera House 2 LOS ANGELES Sports Arena 3 BEAUMONT Julie Rogers Theater 4 NASHVILLE Ryman Auditorium 5 MEMPHIS Orpheum Theater
THEN, after that note was posted, Young responded via her own facebook, though, the post was soon taken down. It read:

Ok. Regarding the recent True-to-you statement from Morrissey: I did not "confess to a horrendous cold". On Monday, June 2nd, I had an allergy attack that was over within 16 hours. I went to a doctor (on Monday, June 2nd), an allergy specialist, who gave me drugs for allergies…and they worked. I explained this (early on Tuesday, June 3rd) and offered this doctor's phone number to Morrissey personally, via email, and the tour manager, Donnie Knutson (for proof….since they seemed to doubt me). But, they NEVER followed up with me or said doctor. Also….it is incorrect that I "decided to leave the tour completely". I was asked to leave. Was called (in the presence of my band as witnesses) by Morrissey's booking agent, Dave Tamaroff, and told that there would be a new support band in Boston. I am very sorry that Morrissey is not feeling well. But I will not tolerate these lies….particularly about my health. This is really too much and bizarre.
Presumably, tickets can be refunded at point of purchase.