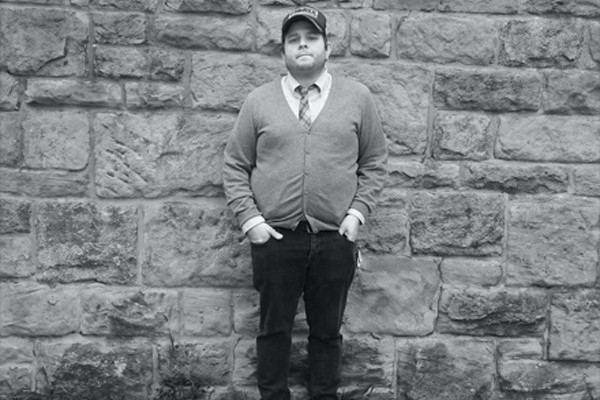 Derek Vanetti, aka The Homeless Gospel Choir, is a storytelling acoustic-folk-punk singer who weaves issues like terrorism, materialism and consumer greed between personal topics on his new album I Used to Be So Young.
The new record was released on A-F Records and was produced by Anti-Flag's Chris #2. Punknews staffer Max Qayyum caught up with Derek to talk about his new record, his views on the state of punk music and explanations of the topics he discusses on the new album.
You can click read more for the conversation.
How would you describe the new record?
A car crash of ideas to music by someone affected by a neverending religious war. Or punk.
The new record deals with a multitude of political and personal issues. What are the major themes?
The major themes in this record revolve around how we all are directly affected by what is constantly put in front of us. Whether it be war, religion, fame, power or whatever distracts us from being at peace inside of our own identity. I wanted to address the idea that there is no normal -- there is no right answer for everyone -- no one-size-fits-all solution. That we all have our own minds to make up in whatever fashion suits us best. I guess an overarching theme is dealing with the fact that for my entire adult life, America (my country of origin) has been involved in a religious war, which dictates much of our decision-making process. I reference Jesus, war and death a lot. It's the same kinda shit you would see if you just turned on the news. I guess I just wanted to offer a different angle on it.
Who are your main influences?
I'm a huge fan of any kind of music that has something to say. I'm a huge Bob Dylan, Billy Bragg and Woody Guthrie fan when it comes to acoustic singers who all have a lot to say. But I also love Rage Against the Machine, American Nightmare and The Clash for the same reasons, they are strong lyrically and take me to a place where I don't feel so lonely.
Do you see yourself as a protest singer?
I see myself more as conversationalist.
How do you feel about the state of punk at the moment? Do you feel a sense of apathy in the wider punk scene regarding political issues?
I love the punk scene more today than ever before. I love the way kids are starting bands in every style and genre. Maybe we are just lucky here in Pittsburgh, but there are amazing punk bands here doing great things every night of the week, for whatever kind of punk music you prefer. And of course, I still love that the OG punk rock bands with something to say are still out touring and writing music: Subhumans, Paint it Black, Strike Anywhere, on and on.
One of the most interesting songs on the record is "When the War is Over." Tell me a bit about the meaning of that song?
"When the War is Over" is a song about a series of conversations I had with friends and strangers about post-war experiences. Not everyone who goes off to war knows what they are going to come home like. We have teenagers in this country who don't know what it's like to live in a time of peace. We have veterans being forced onto the streets, committing suicide at an alarming rate, and a government that is doing little to nothing to aid in the pain of what it's like to live with constant war in your mind. I wanted to paint a picture of the conversations I had with some of the men and women who served in the military, who have come home to a government who has already forgotten their service. I would like to also say that I am NOT anti-soldier! I am very much anti-war and very much anti any government that sacrifices the lives of their own people for financial gain and political power. These men and women need a safe place to come home to without fear of homelessness, joblessness and financial ruin.
The new album was produced by Christ #2 of Anti-Flag. How was that experience?
Chris #2 is an amazing musician, producer and friend. I consider myself to be fortunate that Chris and the rest of the Anti-Flag and A-F dudes liked my tunes enough to want to put out my record. Chris #2 was able to take the ideas in my head and help form them into a much bigger idea. It's always nice to hear that people like your music and I was super fucking stoked that Anti-Flag wanted to work with me. So yeah it's pretty dang exciting.
How did you come to know the Anti-Flag guys and sign to A-F records?
I first met Justin Sane at an acoustic house show in Pittsburgh that the Ghostwrite put on to raise awareness about mountain-top removal in West Virginia about four or so years ago. I met Chris #2 through White Wives around the same time. #2, Massie and Tyler (from White Wives) play in a Green Day cover band, and asked me to open a show they were playing. After I played my set, #2 approached me and said he wanted to talk about us making music together, he said he loved my tunes and wanted to put out my next record. Chris Stowe (A-F records' big boss) and I had played acoustic shows together in the past, and had built a solid friendship over the years. Also Roger Harvey and Chris #2 played White Wives songs at my wedding over a year ago. White Wives are my wife's favorite band, so that was special.
What are your plans for the rest of the year?
This next year is looking great. I leave for tour in a few days until the end of July. I have two awesome record release shows planned in Pittsburgh with Ramshackle Glory, Listener and '68. I'm sorting out Europe right now for this fall and I have a ton of weekend trips planned. I'm super excited for folks to hear these songs live!