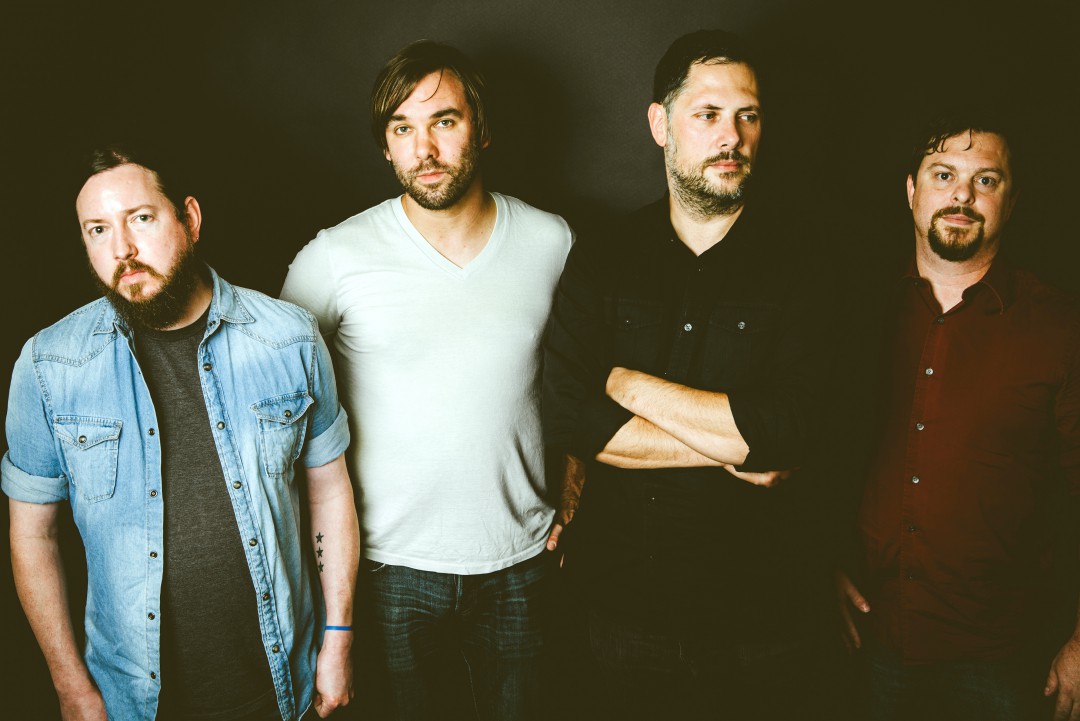 Forming twenty years ago and returning with much fanfare is the band Mineral. After their short but successful initial run back in the late 90's, Mineral returns to finish what they started. To top it off, the band will be reissuing their albums The Power of Failing and EndSerenading in October. Punknews interviewer Christopher Barrett spoke with Chris Simpson about giving the people what they want, making the most of a new opportunity, and trying to comprehend people's fixation on labeling things.
I guess the best place to start is to talk about the reunion tour Mineral has planned. With all of your headlining dates having sold out, and knowing how the fan base has grown and clamored for a reunion for a while, what's your mindset as you guys are heading out?
Pretty excited, but with a whole lot of nervous energy. We've been rehearsing for a while now, and I don't think there is any danger of us feeling over-prepared. We're definitely ready to play for a few people. [Chuckles]
What are your expectations as you embark on your upcoming tour?
I honestly don't know what to expect. I have trouble imagining it still, but it's just about here. We've never played to crowds the size we are anticipating before. I know from having played music a long time now that there is definitely an energy from the crowds that size and it should be fun to play along with that.
Delving back into Mineral disbanding, what precipitated it at the time?
To be honest Jeremy and I were sort of the ones who instigated the disbanding. We were kind of doing it for the wrong reasons, but we had talked and we knew we were both in the same place. So we presented it to the other guys together and that was it. I was a little burnt out from touring all the time and I was starting to cultivate a relationship with someone and I just wanted to be in one place to focus on that. I also at the time really took for granted the success and the connections Mineral had with people. I just assumed that I could take some time off and do something else and if I wanted to I could pick up right where I left off.
How was the break-up dealt with when you guys reconciled and what help you decide to play again?
We just sort of felt like it was the right time. We all had been thinking for a while that this year would be 20 years since the band had started playing. So if there were any time the band would start up playing again the time would be now. The actual impetus was a few things. A good friend of ours has been bugging us for a while about doing something with Mineral. So we had some pressure from him along with Jim Adkins from Jimmy Eat World who also asked if we would be interested in a one off show playing with them somewhere this summer. We felt it was a safe way to test the waters so we started rehearsing for that. That show ended not happening, but we had already started rehearsing. It felt good and we all felt that this is something we could really do. We decided from there just to go for it.
Before Mineral disbanded was there was some courting done by Interscope. How do you view it now as opposed to back then?
We were a little bit torn at the time to sign with a big label such as Interscope. There was an indie and DIY ethic with the scene we had been embraced by. In that sense there was an inherent mistrust of major labels. It didn't occur to us at the time that we weren't even going to be around to put out records with them. It was something that did make sense to us though in order to move forward. The deal we ended up having with them was to have our third record put out by Interscope, since we already had agreed to put out the second record with Crank Records. We were hoping it would be a slow and steady build and by the time we got to the third record it would be a smoother transition, but we never got there since we broke up after the second record. That said, there was definitely some differing opinions as to whether we should sign or not. I also made it pretty clear at the time if the decision was solely my own, I wouldn't have signed. We didn't get screwed though because we did ending up making some money and then got dropped. I guess you could call it a sort of success story.
There is some flattery involved when being courted by a major label correct?
For sure it's flattering. We were definitely excited at the time about all the interest we had generated. As much as we were level headed and had these ideas about maintaining our values and integrity we were excited about being young kids flown across the country and wined and dined by a big label.
After Mineral you went on to form the Gloria Record and Zookeeper. As you played in those bands at the time were there questions always popping up about Mineral?
There were definitely persistent questions about Mineral over the years. For a while there it was a little annoying to me honestly. There were definitely people at Gloria Record and Zookeeper shows because they appreciated Mineral and wanted to talk about Mineral. Again, to be honest, they'd probably rather be at a Mineral show. I always had a sense that sentiment existed, because Mineral just really connected with some people in a way that was unique I guess, one that doesn't happen all the time. I was put off for a while though and wanted to distance myself from Mineral and have people appreciate what I was doing in the moment. I definitely understand and don't want to minimize people's connection with a particular band and their music.
Did such questions change your view on Mineral over time or did it only reaffirm that you were focused on what you were presently doing? Definitely more of the latter. I'm always focused on whatever I'm working on at the time. I was a little down that people weren't quite into as much as I had hoped, but I don't think it changed how I looked back at Mineral. I don't think I was at peace with everything and accepted what it was until recently. I didn't come to appreciate Mineral for what it was and it's connections until recently, especially considering that there are a segment of our fans that never got a chance to see us.
Looking back at the band when you guys were first around was their a particular show or event that is most memorable while in Mineral?
Looking back at all the places we played there was nothing more fun than playing a house show. Just a bunch of sweaty people crammed into a room with no stage and little to no distinction between the band and the crowd. I love those kinds of shows and there were a lot of those in the Mineral days.
House shows are cool indeed. Were there any venues you played in particular that stands out or any venues you look forward to playing to on this upcoming tour?
There are a lot of cool venues we look forward to playing on this tour for sure. They're not places we have played before. We were excited that we got to play CBGB's back in the day, and that was one of our first times in New York. We were excited to play any place that any of our influences had played before us. A unique place we played in LA was the Jabberjaw, which was really sort of divey but looked at their past line ups and the vibe got us really excited. We played at the Koo's Cafe in Santa Ana a few times and the place was awesome. What was cool about that place is that you would set up in the front corner and there was a window wall behind you. Since the place was so small there would be just as many people in front of you as there were outside the window watching you. So there would be a crowd on both sides. Those were really fun shows, and we always looked forward to those on tour.
Some people feel that there is an sort of an "emo revival" with other bands like Texas Is The Reason, Knapsack, and Braid getting back together for a series of shows and a wave of new bands that cite Mineral as a significant influence. What are your thoughts on being cited and the "emo revival" as a whole?
I wasn't aware of such a term or concept until recently. It kind of relates back to the term emo itself. It's not a term we used when Mineral was around. It was a term we heard thrown around in the later stages of Mineral. It wasn't a term bands used to describe themselves. More recently, I've heard certain labels like that attributed to newer bands that have a similar feel or sound. What's good that I noticed is the similar DIY ethos that these bands have today which is cool to see. It's nice to see people still doing things that way. I honestly don't keep up with the newer bands and only observe what is going on from a distance. I didn't hear the term "emo revival" until we announced our reunion. I think what it means to us is that we could play nice venues to nice sized crowds which is cool.
So Mineral is set to release both albums as a deluxe reissue in October. What are some extras people could expect and look forward to?
The reissues are going to be cool. The vinyl for each album is going to be a double LP at 45RPM and remastered. They sound really good and honestly were shocked by how much better they sound. The packaging outside the vinyl will stay true to the original art, but when you open up the inside there's going to be a lot of nice photos and liner notes. We sort of walk through all the songs meaning there will be the lyrics and then quotes from the four of us remember about that song whether its the about the recording or writing of it. Its pretty comprehensive in terms of layout and liner notes and I think people will enjoy it. Outside the vinyl reissues we're going to do a double CD with both of the remastered albums plus stuff that was on 7-inches and singles as well as some outtakes from the studio. We figured it would be cool as bonus tracks because they wouldn't be released on their own and work better in the context of the reissue. Arena Rock Recording Co. will be handling the United States release and X-tra Mile will be handling the International release.
Are there any plans to potentially write new material, or is this just limited to a reunion?
We really have been focused on just getting ready for the tour. If anything such as writing new material were to happen it would take some time to develop. It definitely takes more time than we have put in so far. I don't think we have any designs or plans on doing that but I wouldn't rule it out. It just wouldn't happen anytime soon.
After all is said and done what do you envision for Mineral or where do you hope to leave it?
I think we're proud of what we accomplished overall. I don't think we overstayed our welcome the first time around and I hope the same goes for the second time around. All in all I'm really happy these records are getting the proper treatment so people could have them and enjoy them at a reasonable price. I'm happy to get the music out there again and connect with people, but I can't say for sure what the future will hold. At the very least through this process we reclaimed ownership of all our material, so we're in control of our legacy. I'm excited for the tour overall and can't wait to see what it brings.