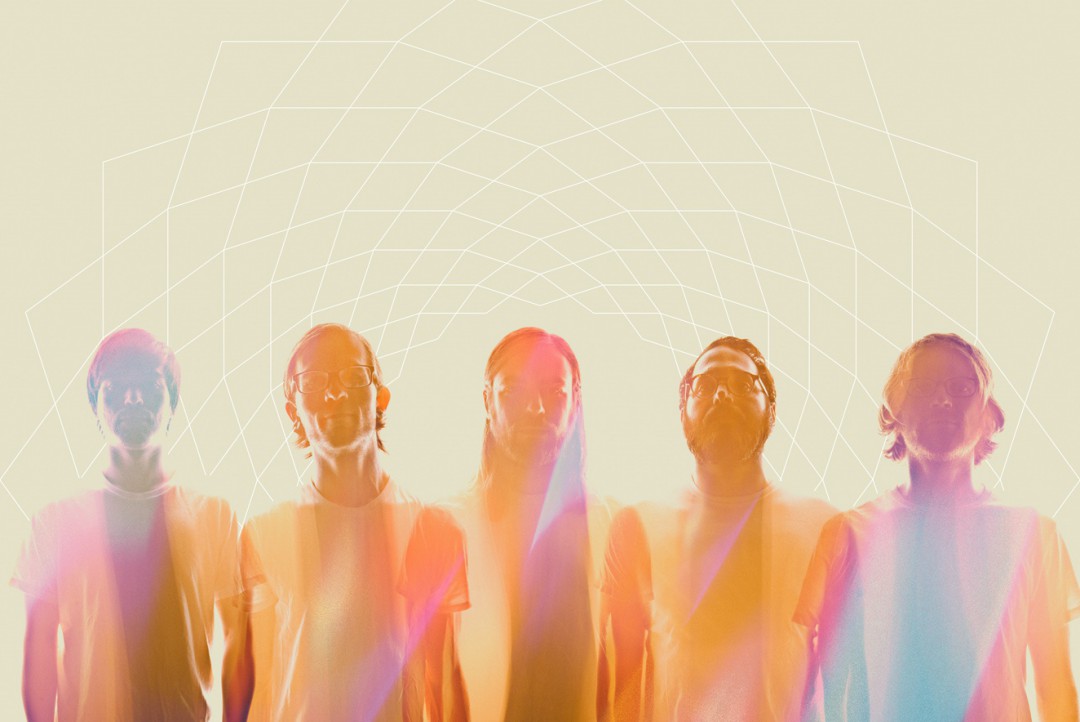 Some of the best bands have come out of the DIY New Jersey punk/indie scene. Gates is another band that is an accurate reflection of that. Gates will be releasing their debut full length album Bloom & Breathe on Pure Noise Records on October 21st, 2014. Contributing Editor Samantha Barrett spoke with guitarist Ethan Koozer and guitarist/vocalist Kevin Dye about the new album, lighting effects and future plans.
Tell me about yourself and how the band came together?
Ethan Koozer : I'm Ethan, I play guitar. Kevin Dye: I'm Kevin, I sing and play guitar. Koozer: We've been playing music together for four years now. Dan King, Mike Maroney and Dan Crapanzano were playing in a band called Bears and Bright Lights. When Kevin and I moved to the tri-state area, we just kinda met each other through mutual friends and started playing. We formed Gates not too long after that.
You have recorded your first LP.. How was the recording process for Bloom & Breathe?
Dye: Recording is awesome In the past I have recorded our two EPs. I recorded them both in Mike's parents' house, I also mixed both of them initially. When we signed to Pure Noise, it was floating around to get You Are All You Have Left To Fear remixed. I met Mike Watts of VuDu Studio through random circumstance years prior and kept in touch. I always looked up to him and wanted to work with him in the future. When the opportunity to get Fear remixed he was one of the first names to come to mind, by far the most enthusiastic person in doing it. Mike and I co-produced Bloom & Breathe, he mixed it primarily, I helped mix it too. We worked super collaborative with him, we bounced ideas off of each other. It's just an awesome experience he definitely became the sixth member of the band. He helped us grow and was very critical on stuff that we couldn't have seen. He helped make the record so much better than we had hoped for. We put two year's worth of writing to make this record epic. It just turned out awesome and we're definitely excited that we got to go into the studio and work on it.
What should listeners expect from this LP in comparison to your two EPs?
Dye: I think if you're expecting Gates you're not totally off, it's not like were playing folk rock or anything, we're definitely still Gates. It's the five of us writing super collaboratively, that aspect of it still the same. There are still hints of everyone in each song. I think that with this LP we got to try out some stuff that we wouldn't have done in an EP format. Where in an EP format we were kind of like, "we have six songs and that's all we get so let's focus on that." Now we have 10-plus songs, let's do some stuff we have not done before. There is a track that is just acoustic guitar and vocal. There is also a track that is just minor E oriented with Ethan tuning down to C-sharp for the first time. There's just some cool variation. Koozer: I think we took the best of both EPs and blended it together in an even more diverse format. Like Kevin said before, in the LP format we felt like we had a lot more room that we haven't had in the last two records. I would say it is a diverse, very musical record. There are a few songs on the record that is are definitive Gates tracks.
In your first two EPs you have an instrumental song on the track listing. How important is the addition of an instrumental song to your albums?
Dye: I know for a fact that Dan King thought it was super important for him. He spearheaded the movement to have instrumental songs for the records. We always thought it was cool. The original one was because we wanted an intro for our set, "At The End of All Things" was made and we were like "that's really cool." When we were writing the second EP we wanted to have the same amount of songs on it and we wanted to add "Skyline," the album had a similar theme and we want things thematic. Ethan had wrote "To Those Who Fell…," we basically played that song verbatim to how Ethan wrote it, then we all wrote "…and To Those Who Carry On" with that. With the full length, we were thinking that way. King had an idea from The Sun Will Rise and Lead Me Home, I thought it was so cool. We didn't know how to make that song into a song with vocals. We just felt it should be an instrumental song, there was no reason to add any vocals to it so it ended up being an instrumental track on the new record. I think it is a cool aspect of what we do. Were all super influenced by instrumental music and I think a lot of time the music is supposed to convey a feeling, the lyrics tend to support that for our band as opposed to the other way around. The fact that there are a few instrumental songs make sense.
The lyrics to your songs are so emotionally connected to the music. What is the process of writing lyrics for your music?
Dye: It's painstaking, it's horrible and it takes way too long. It's frustrating. I'm just super picky, super intense about the words I choose to write. I dunno, I feel like it can be a lot easier than I can make it, it probably doesn't sound like I spent a million years on it. For Bloom & Breathe, I tried to write them differently than when I wrote the EPs. I tried to have a general idea about what the song was about and I wanted to base the lyrics of each song on some key phrases that I wrote in my notebook. I didn't really want to write the lyrics to a song until most of the record is where they needed to be. I have placeholder lyrics or ideas for each song until about a month before we actually went into the studio, I finished them all right then at the same time. I wanted to have a real cohesive feeling with the album, we have been writing this record two to three times a week over the course of a year to a year and a half. I didn't want the first track we wrote to feel super distant from the last track we wrote. I wanted them to all have a theme, repeating motifs on the record, like track one has lyrics from track eight. It's not a concept record or anything I just wanted it to have a cohesive feel. I generally wanted it to be about something.
Your band seems to have a very D.I.Y. aesthetic, where you are very hands-on in designing and creating your records. Tell me why it is so important that you are so hands-on with these things?
Dye: I think we just got lucky in that sense. I actually wanted to record the Gates record more than I wanted to join the band. I kept hitting them up and I was like I'll send you a track but I just wanted to record the record. I was working in a studio at the time and that's just how I ended up recording our EPs. King is a graphic designer, a lot of what we based the band on and the general art direction was something he had in his head even before we had completed a record. Mike, he's a photographer. Because we do these things anyways the stuff is naturally applied to the project. I think it becomes a massive art project for us. It becomes a thing to hone our stills in and try different things because it's ours, we're not going to say no to ourselves, we can do whatever we want and push it to the limit and work on something that is ours. Koozer: We always, from the beginning, have a running joke in our band, nobody is going to care about our band as much as we do. We like to take that to heart with every aspect of the band. I know Kevin being an engineer recording bands, Dan being a designer and Mike being a photographer, we kinda look at the band as a growing portfolio piece for ourselves. Nothing is taken lightly, we're always very critical about our next move and what's going to happen and I think it's just because we have done it ourselves for too long and we just care about it too much to let it go.
In your live shows, you guys always have a way with light and sound. Was that the intention of your band from the start? Tell me about it…
Dye: How did Mike come up with that? Koozer: Dan King's old band, they may have been using the flood lights, the operation that we still use today. Dan King and Mike control them with foot switches on their pedal boards. It was never… We just used it for our first show. It was always just there. (laughs) It works well, it looks cool and it's real easy, it's not a hassle to set up. It's not a huge thing but we feel like it adds an extra something. Dye: When you have lights blasting off at the impacts of your music. You're like "oh, the light guys just does that," but the light guy doesn't know your songs. We have two people that know our songs and they control some lights. I joined the band and they were just there. I took them for granted. I never even thought about when those things should be going off or anything like that, King and Mike just kind of do it. Koozer: It's kinda cool because it gives us the opportunity to take over the room as well. Dye: If there are no lights at a venue, we have them already, like we're in a basement or something. It ends up looking really cool. It definitely adds to the show. I know when I see a band and there is an awesome light show it adds to the experience.
You guys toured a bit this past summer. Got any other touring plans?
Koozer: We recently announced a few runs coming up this fall to support the release. We have two east coast shows on October 22 and 23 with BoySetsFire and five regional shows with Pianos Become The Teeth and Frameworks. We are extremely excited to be sharing the stage with both Pianos and Frameworks again. Especially with these shows acting as their release tour for Keep You. We are taking off for another west coast run in November through December with Foxing, as well.