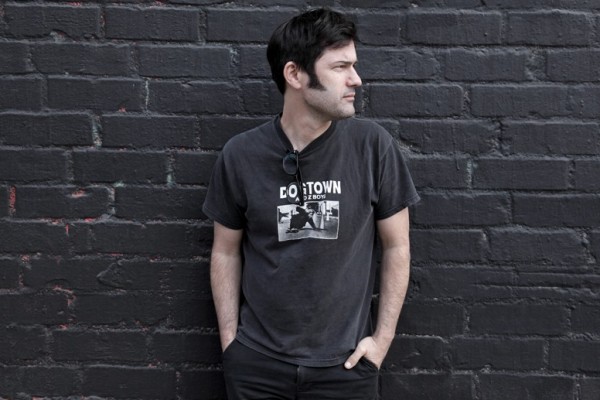 Joey Cape will be joining us for our next edition of We'll Do It Live tonight at 8 p.m. EST. He just released Hang with Lagwagon. They'll be hitting the road with labelmates Swingin' Utters this week (tour dates below).
Joey will be here from 8-9 p.m. EST tonight, so get those questions ready and we'll see you back here this evening! You can prep for tonight by reviewing the interview we did with him recently.
Note: Save your questions for the post that will be at the top of the page at 8 p.m. Please and thank you.
| Date | Location | Venue | Support |
| --- | --- | --- | --- |
| 11/06/14 | San Diego, CA | House Of Blues | w/ Swingin' Utters, This Legend |
| 11/07/14 | Indio, CA | The Date Shed | w/ Swingin' Utters, This Legend |
| 11/08/14 | Santa Ana, CA | The Observatory | w/ Swingin' Utters, This Legend |
| 11/09/14 | San Francisco, CA | Slim's | w/ Swingin' Utters, Western Addiction, This Legend |
| 11/11/14 | Portland, OR | Hawthorne Theatre | w/ Swingin' Utters, This Legend |
| 11/12/14 | Seattle, WA | El Corazon | w/ Swingin' Utters, This Legend |
| 11/13/14 | Vancouver, BC Canada | Rickshaw Theatre | w/ Swingin' Utters, This Legend |
| 11/14/14 | Kelowna, BC Canada | Level Nightclub / EARLY SHOW!tl | w/ Swingin' Utters, This Legend |
| 11/15/14 | Calgary, AB Canada | Flames Central | w/ Swingin' Utters, This Legend |
| 11/16/14 | Edmonton, AB Canada | Union Hall | w/ Swingin' Utters, This Legend |
| 11/17/14 | Saskatoon, SK Canada | Louis' Pub | w/ Swingin' Utters, This Legend |
| 11/18/14 | Winnipeg, MB Canada | Pyramid Cabaret | w/ Swingin' Utters, This Legend |
| 11/20/14 | Green Bay, WI | Green Bay Distillery | w/ Swingin' Utters, This Legend |
| 11/21/14 | Chicago, IL | The Bottom Lounge | w/ Swingin' Utters, This Legend |
| 11/22/14 | Detroit, MI | Magic Stick | w/ Swingin' Utters, This Legend |
| 11/23/14 | Pittsburgh, PA | Altar Bar | w/ Swingin' Utters, This Legend |
| 11/25/14 | Cleveland, OH | Grog Shop | w/ Swingin' Utters, This Legend |
| 11/26/14 | Buffalo, NY | Town Ballroom | TBD |
| 11/27/14 | London, ON Canada | Call The Office | w/ Swingin' Utters, This Legend |
| 11/28/14 | Toronto, ON Canada | Opera House | w/ Swingin' Utters, This Legend |
| 11/29/14 | Ottawa, ON Canada | Ritual | w/ Swingin' Utters, This Legend |
| 11/30/14 | Montreal, QC Canada | Olympia Theatre | w/ Swingin' Utters, This Legend |
| 12/01/14 | Quebec City, QC Canada | Imperial | w/ Swingin' Utters, This Legend |
| 12/03/14 | Boston, MA | Brighton Music Hall | w/ Swingin' Utters, This Legend |
| 12/04/14 | Philadelphia, PA | Theatre Of Living Arts | w/ Swingin' Utters, This Legend |
| 12/05/14 | New York City, NY | The Gramercy Theatre | w/ Swingin' Utters, This Legend |
| 12/06/14 | Asbury Park, NJ | Stone Pony | w/ Swingin' Utters, This Legend |
| 12/07/14 | Washington, DC | Black Cat | w/ Swingin' Utters, This Legend |
| 12/09/14 | St. Louis, MO | Firebird | w/ Swingin' Utters, This Legend |
| 12/11/14 | Denver, CO | Summit Music Hall | w/ Swingin' Utters, This Legend |