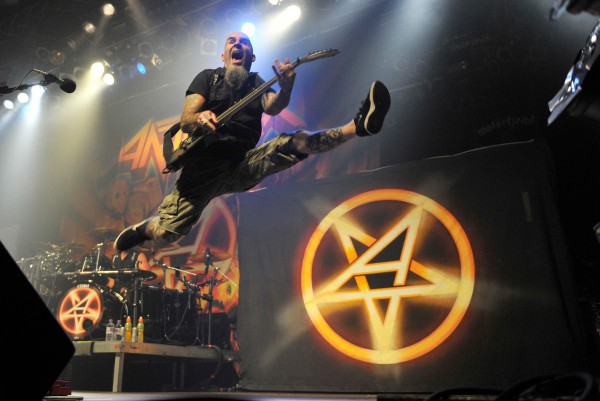 Scott Ian of Anthrax is spilling his guts. On his new spoken word disc, Swearing Words in Glasgow, he covers his first time partying in the UK, getting wasted with Lemmy and hanging out with Dimebag Darrell.
In order to get the scoop behind some of Ian's exploits, features editor John Gentile spoke to him about Lemmy, being a young dude on a UK tour and The Sex Pistols.
Photo by Andy Buchanan
What's the first record that you really turned you on to music?
The first album that I ever bought with my own money was Kiss Alive. That would be it. I had to buy my dad a birthday present, back in like '75, I had enough money to buy Alive which I really, really wanted. It was like $5.99. That was almost exactly what I had. I bought Alive for my dad knowing he'd smile, say "thanks a lot" and then just hand it back to me. So, that was my plan.
What made you want to start a band? Was it an older brother? Friends?
It was just me. I just love music. I had been playing guitar since I was about nine years old. From the age of 13, I wanted to make music with other people and be in a band. I was always looking for people to jam with. Sitting alone playing a guitar was boring for me. I always wanted to play with people. From a young age, I was always looking to play in a band.
There's a part of the film where you talk about meeting one of your musical heroes, Lemmy of Motorhead. At the time, what did Lemmy represent to you?
He was an absolute hero -- still is. From early on, Lemmy was an icon up there with Gene Simmons and Steve Harris and Rob Halford. I looked at Lemmy in that same light. He was almost like a mythical creature. He was so amazingly cool and awesome. I just listened to the records and would go see him live. It was like someone transplanted a pirate from 500 years ago and stuck him in the modern age. That was the sound he makes. I couldn't describe the impact he had on me and his influence.
When you see Lemmy now, do you say "Oh, there's my friend Lemmy," or do you still say, "Wow! There's Lemmy of Motorhead!"
It's a combination of both. I've known him for a long time and we've spent some time together. On one hand, I can say, "Oh, there's Lemmy" and go have a conversation with him. On the other hand, I still feel like I'm 13 years old when I see him and it's like "Oh, shit there's Lemmy!"
In the spoken word film, you talk about your first promotional tour with Anthrax in the UK when you were 21. Twenty-one is pretty young. Did you feel like a grown man then, or were you still a kid out on the town?
Ha ha ha! I definitely didn't feel like a grown man, that's for sure. I felt like a kid. I didn't know anything. I was really happy to be there and absorb as much as I could and experience and keep my mind open to as much as I could. I was counting myself lucky to be in that situation and if nothing else happened, at least I got to do that. That's still how I try to look at things. I try to leave myself open to the experience instead of just complain about the training.
While you were there, were you like "I can't believe this is happening," or were you like, "Of course this is happening! This is supposed to be what is happening?"
No! I was nobody and nobody gave a shit. I definitely couldn't believe what was happening. When something that you've been dreaming about since you were 12 starts to come to fruition, it's a pretty amazing thing. "I've worked so hard for this and things are starting to happen!" It was always a case of "Holy shit!"
Do you think one has to have an inherent confidence to be successful in a band?
Oh, yeah. Absolutely. I think you have to have that attitude of just basically "F everybody! I'm going to do things the way I want to and stay out of my way!" I think it has to be that.
Scott, you always seem like a nice guy to me. Is it difficult to balance niceness and that inherent confidence, or even cockiness, of being in a band?
I think there is an inherent… call it arrogance… in a personality, you have to have a certain cockiness to get out off the ground in this business. That's definitely not the dominant part of my personality. I'm not that way 24/7. That part of my personality comes out when I'm on stage jumping around. But, I'm not a screaming lunatic when I'm hanging out. People have different facets of their personalities and depending on what you are doing, those facets come out. I think I've always treated fans with respect and kindness. I think I've always been very clear that there is no Anthrax without people who listen to Anthrax. That could be say, when I'm home and walking down the street and as far away from working as can be, and especially when I'm with my family, do I want to get stopped and take pictures? No. I'm trying to get from A to B in my daily life like anybody else. But, I will always do it. I will never blow somebody off.
What was it like working with Chuck D on "Bring the Noise?"
That was one of those moments were you have an idea and just put something into motion. We did it. We're all big, big fans of Public Enemy. I always wanted to work with those guys. I specifically thought my guitar tone would go with Chuck D's voice. We we're able to make that happen. It always goes back to kind of the same thing. Whatever you do in life, whatever you want to do, you just have to keep that laser beam focus on the things that you want to happen. Just keep pushing to the point where you are bugging people. That's how we made it happen. We kept bugging people, even after the people at both the record companies were telling us "No, don't do that!" We did it against even the people who worked for us telling us it was a bad idea, because we knew it would work.
Anthrax has covered the Sex Pistols on a few occasions. I always liked how Anthrax would cover bands outside the metal sphere.
I'm definitely a fan of the Sex Pistols. I can't say that there is an obvious Sex Pistols influence on us musically., like you can say with Maiden and Motorhead and Priest. I was definitely a fan of the Sex Pistols and bought that record in the late '70s. I grew up listening to hard rock and to me, that record is more of a rock record than a punk record. I love that record. If anything, the attitude of punk and hardcore definitely has an influence on Anthrax. Maybe we didn't come out looking like your typical heavy metal band. Lyrically we were different than the metal bands before us. I've never analyzed it too deeply. But, maybe because our stuff deals more with real things than fantasy, maybe that's an influence from punk and hardcore.
Along those lines, are you a Clash fan?
Oh yeah! Basically any late '70s British new wave, punk, pop, I'm into it from the Clash to Squeeze.
Scott, do you know that you have a Clash connection?
I do?
Scott, you are married to the daughter of Meat Loaf. On Meat Loaf's "Paradise by Dashboard Light," he sings with Ellen Foley. Ellen Foley made major contributions to the Clash's Sandinista, had an album principally written and recorded by The Clash, and was Mick Jones' girlfriend!
Ok! Well, that's kind of a connection…