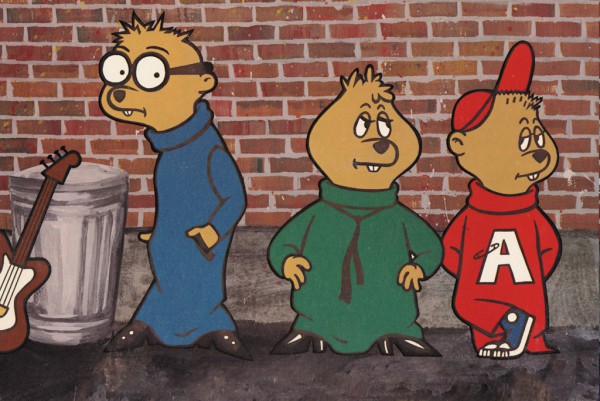 There's the old cliche: "if you think music was better back in the day, then you're not looking hard enough." But, over the past year or so, for whatever reason, it's hard not to stumble over some incredibly awesome, unique bands. Maybe it's due to the interconnectivity everyone has these days, maybe it's due to the fact that the lines between "indie" and "pop" are more blurred than ever, or maybe we're just in a new golden age of music, but there are just tons of bands about to do some great things.
Because we're so excited about a lot of these cool new bands, we've put together a list of 15 new bands that you should check out in 2015. This isn't intended as a list of the "objectively best 15 bands this year." It's just a bunch of rising bands that the Punknews staff digs. By all means, post your favorite new bands in the comments section below.
You can click Read More for 15 bands we think you should check out in '15.
Ajax
New York, NY
Ajax is a hardcore band from New York, but they're not a "New York hardcore" band. Sure, there's pounding bass and drums, but there's also a catchiness to the band's riffage that sets them apart from fellow travelers past and present, and the band stands even further out thanks to the inimitable growl of their lead singer, who's voice is sure to scare small children everywhere. With the Bleach For Breakfast demo and a self-titled 7-inch under their collective belt, it will be interesting to see where the Village Voice's Best Punk Band of 2014 take things in the new year. -Adam Eisenberg
Bad Cop/Bad Cop
Los Angeles, CA
Armed with fast tempos, soaring harmonies and high energy, this all-female four piece aims to make waves and smash sexist stereotypes. Bad Cop/Bad Cop don't fear the pit and are ready to get dirty with anyone and everyone, so don't expect "another squeaky girl band." Bad Cop/Bad Cop self-released their eponymous EP back in 2011 and followed up in 2014 with their 7-inch Boss Lady on Fat Wreck Chords. The ladies just finished recording a new LP due out on Fat later in 2015. In support of the new LP Bad Cop/Bad Cop plan on hitting up some places in North America that have yet to be graced with their presence, so be on the lookout. -Christopher Barrett
Bad Canoes
Philadelphia, PA
There is no band on Earth that sounds like Bad Canoes. Instead of a guitar, they have a keyboard. They have songs about having sex with Moses, what radio stations are good and eating ambrosia salad. At shows, frontwoman Marissa Paternoster rolls around on the floor and screams like a bird. She might hit you with a chain. If you melted down the Slits and the Screamers, and then reassembled the proto-matter in 2015, you might get this band. Weird. Unique. Amazing. -John Gentile
The Bombpops
Oceanside, CA
I'm pretty picky when it comes to pop punk. It's very "hit or miss" for me as a sub-genre. Southern California's The Bombpops though, definitely fall under "hit" in my book. Poli Van Dam and Jen Razavi front the four-piece with their mastery of vocal harmonies and awesome guitar riffs. Their songs aren't comprised of the usual three or four-chord progressions. You get a hell of a lot more than that. Their songs are extremely fast all while having very catchy melodies. Check out the song "(Back To) The Medicine Cabinet" on the Stole The TV EP and my personal favorite, "Outta Hand" on the Like I Care" EP. The band also just self-released a new 7-inch called Can of Worms earlier this month, which you can read my review of here. -Ricky Frankel
Break Anchor
Detroit, MI
There are currently a ton of great punk and metal bands in Detroit. They cover a wide variety of sounds, but all share the gritty persona of their hard-luck city. Break Anchor is the band that seems most likely to attract a wider audience over the next couple of years. They have the advantage of a well-known member (Jay Navarro), and a sound that should appeal to many. Break Anchor's music is aggressive enough for punk and even hardcore fans, but there's also enough melody for people who enjoy the harder edge of pop-punk. The vocals are delivered with a rare sense of urgency and passion. These are blue collar anthems written by hard working guys who know all about punching a clock. To hear Break Anchor is to love them. With their debut LP coming in 2015, they have the potential to reach a lot of new ears. Jay Navarro experienced a pretty good amount of success with The Suicide Machines before it all came crashing down. Now, like the city of Detroit itself, he stands poised for a comeback. -Tom Trauma
Cool Ranch
Bloomington, IN
Brothers Elliot and Tom Denning have shared the stage many times before, notably in the Bloomington, IN psych-rock band The Size of Color, who disbanded in the summer of 2012. Reunited with guitarist-turned drummer Alex Molica, they formed Cool Ranch in January 2014. Their self-titled EP dropped in November of last year, and shows us right out the gate that they are not a psych band. Tom's guitars stay in that realm, creeping in and out of the songs full of reverb and delay, but Elliot's bass and Molica's drumming keep it firmly rooted in stomping indie rock ala Modest Mouse or Spoon. Elliot's lead vocals are nasally in the best way, keeping things melodic but not sugary; there is always a bit of grit. Before the EP was released, they swapped out Molica for another guitarist-turned-drummer, Greg Moore, who keeps up nicely behind the kit. They have yet to play outside of Indiana, but hopefully that will change real soon. -Greg Simpson
Dilly Dally
Toronto, ON
Grungy, and moody, Toronto's Dilly Dally are another distinctive act to emerge from the Ontario capital's incredibly hot noise punk scene (see Greys, Odonis Odonis, METZ, etc). Katie Monks and Liz Ball bury some classic garage-pop under layers of reverb, slurred vocals and full-throated screams with rhythm section Jimmy Tony Billy Rowlinson (Mexican Slang) and Benjamin Reinhartz (Beliefs) providing the propulsion. With a handful of 7-inch releases under their belt from labels like Buzz and Fat Possum, the band's next releases are sure to garner more attention. -Adam White
Downtown Boys
Providence, RI
Don Giovanni Records is already the home to many of punk's most accomplished frontwomen, and the label recently consolidated that claim with the addition of Downtown Boys. Lead singer Victoria Ruiz is a whirling dervish, spewing politically charged lyrics in English and Spanish, all the while being backed by the kind of driving, sax-infused punk rock that may remind you of the early work of Against All Authority. If the band's 2014 7-inch on Sister Polygon burned a hole in your turntable, then the thought of an upcoming full-length should keep you warm through the winter. -Adam Eisenberg
Mac Sabbath
Los Angeles, CA
What happens when you mix McDonald's and Black Sabbath? You get the underground Southern California "drive thru metal" band Mac Sabbath! This is a Black Sabbath cover band that has changed Black Sabbath's lyrics to fit their fast food theme. Mac Sabbath features Ronald Osbourne on lead vocals as well as other weirder/darker versions of the fast food giant's cartoon characters on guitar, bass and drums. Think that this is just a novelty band? You're wrong. Though they are a parody band, they are still very serious musicians. On Saturday, January 31 they played a sold out live show. They actually had to turn people away because the venue got so crowded. They even got an endorsement on the official Black Sabbath Facebook page. Not to mention the fact that they rock! See for yourself. They put on one hell of a show. VEGANS BEWARE! -Ricky Frankel
The Manx
Los Angeles, CA
The Manx are a folk punk band, or as they like to call it, an "adventure-gore" band from Los Angeles, California. What makes them stand out is that they don't have a usual punk rock line up with guitars, bass and drums. Instead, this band consists of an upright bassist, a banjo player, an accordion player, a mandolin player, and they just recently added a drummer. The vocals are really crusty and the songs are usually pretty fast. The Manx very recently succeeded in crowdfunding money to record their first full-length, which should be out later this year. But for now check out the few EPs they have released, especially Blood Chronicles. The songs "The Devil's Things" and "Blood Gold" are really great. Also, be sure to watch their awesomely weird but funny music videos for "Blood Gold." -Ricky Frankel
Murder Party!
Grand Rapids, MI
Murder Party! started their killing spree on Halloween of 2011, unleashing a musical tribute to their love of vintage horror and heist films. Their sound is a mixture of horror-punk and classic '50s rock and roll. The Grand Rapids, Michigan-based band released their debut self-titled EP in January of 2013 on East Grand Record Co. It was a catchy combination of the Misfits, Johnny Cash and danceable rockabilly. In June of 2014, the trio continued the carnage with a split with fellow GR band Antilogical. They are currently playing a ton of shows locally and regionally and working on their first full-length. Murder Party! has supported notable acts like Agent Orange, Mustard Plug and The Koffin Kats as well as headlining shows of their own. Twisted lyrics, catchy songs and memorable hooks make Murder Party! a band to watch in 2015. -Tom Trauma
Nest
Nashville, TN
I became aware of the Nashville-based indie rock trio Nest by pure accident. A friend had booked a show for No Sleep artists Daisyhead along with fellow Nashville bands Nest and Cove and needed a local opener at the last minute, which my band fulfilled. As Nest took the stage, they illuminated the room with such an emotional fire that was purely undeniable. The band's most recent release, 2014's Hadal EP on Broken Circles Records, is emotional, dark and very atmospheric. Combining equal parts Envy and The Smiths, mixing in morose and poetic lyrics, and feeding it all through multiple effects pedals, Nest have crafted a sound that is unique yet relatable. Through cryptic social media statuses and photos, it looks like Nest will be unveiling a new recording this year -- undoubtedly coupled with some extensive tour dates -- so don't miss them. -Gregg Harrington
Outer Spaces
Baltimore, MD
Cara Beth Satalino and Chester Gwazda already have a solid track record for folksy indie rock thanks to Satalino's solo EP, The Good Ones. But their work under the Outer Spaces moniker has proven especially strong. Released in fall 2014, the group's second EP, Garbage Beach, has a smoky, sparse quality reminiscent of Mazzy Star, Juliana Hatfield and maybe Waxahatchee if we want to get all contemporary about it. Good Ones was a sleepy little record for 2 a.m. A comedown record, if you will. Garbage Beach is for when the p.m. becomes the a.m. The guitars are a little dirtier. The drums are mixed a little louder. And the hooks come a little easier. Dig the way everything locks together on the chorus to "True Blue." Outer Spaces just wrapped a U.S. tour, but they're playing a batting cage, of all places, in Philly on March 11. -Joe Pelone
Pushin' It 2 the Limit
Philadelphia, PA
Let me tell you why Pushin' It 2 the Limit rules. First, their tunes are KILLER. They take some Ramones charging, some Descendents whimsy and some Dead Kennedys twisting riffs and just blast out banger after banger. Second, they wear team uniforms. Third, every song begins with a battle cry. My favorite war scream? "Breaking through everything with your face hammer!!!" There is also a song about Angela Lansbury. This is punk rock delivered with intensity, frivolity and awesomeness. They also have a pet Siberian tiger named Chumpy that was surprisingly passive-aggressive during their recent fiery performance on WKDU. -John Gentile
The Rentiers
Delco, PA
Let's just say that Joel Tannenbaum has been "around the block." He forged a trail in the '90s punk scene with Plow United. Then, after that band flew apart, he played in a bunch of indie/electro bands or something. I think one was a Peter Pan themed. Then, he formed the Leatherface-meets-Conflict attack of Ex-Friends. Well, that band fell apart. But now, Tannenbaum has formed The Rentiers. And for some reason, this new band feels special. He's already released the group's debut track "Stories of Adam," wherein he wears his heart on his sleeve and delivers an earnest performance reminiscent of Woodie Guthrie and Bob Dylan. With an EP on the way, this band shows its promise as Tannenbaum approaches these new tunes with enthusiasm, skill and raw simplicity. Finally, acoustic tunes that don't make me want to smash the instrument a la John Belushi. -JohnGentile