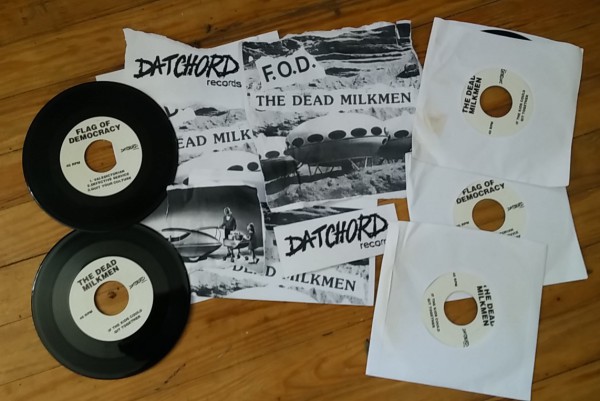 So, here's a weird story. Recently, representatives of The Dead Milkmen and Flag of Democracy aka FOD sent us an e-mail. They claim to have brought to light a split release featuring both bands. We're not exactly sure what is going on here with this strange story, so we'll just re-post the mysterious press release that we got from an anonymous e-mail and let you decide what is happening. None of the representatives have responded to follow up questions, so we can't verify any of this information. You can see the press release below so you can make your own decision about what is going on:
LOST, UNRELEASED 1985 FOD / DEAD MILKMEN SPLIT 7" FOUND

Records pressed in 1985, left in basement, found in 2015.

When Datchord Records was founded in 1984 they wanted to release some compilation tapes and build their way up to being a large label representing Philadelphia the way SST and Dischord had for their regions. After the success of their first cassette release they realized that they needed to move on to releasing vinyl if they wanted anyone to take them seriously. The only problem was money. They had a friend who was happy to help out with the finances, so they asked their friends in FLAG OF DEMOCRACY and THE DEAD MILKMEN to record songs for a split 7 inch. The Dead Milkmen had just secured a record contract for Big Lizard in My Back Yard but were able to keep a clause in the contract allowing them to record the song If The Kids Could Git Together during the same sessions. FOD was about to go into the studio to record Shatter Your Day but they were able to schedule a session to record the three songs for their side: Valedictorian, Defective Service, Quit Your Culture.

So here is how things ended up falling apart. The kid who wanted to help fund the record used their parent's credit card with the pressing plant without permission. They figured their folks would be at work when the record showed up and they would sell them before the bill came and pay them back. When the records and invoice did show up it just happened to be a day off for his mother. When he got home from school he was busted and severely punished. His folks told him they sent the records back to the pressing plant for a refund. So that was the untimely demise of the FOD / THE DEAD MILKMEN split 7" of 1985.

Fast forward 30 years and that kid is back in Philadelphia helping his parents pack up the house to move into an old age home, and what does he find in the corner of the basement but a pile of heavy boxes. He opens one up only to find the entire pressing of 1,000 FOD / DEAD MILKMEN split EPs! Think about it, doesn't it sound silly that a pressing plant would accept returns?! Upon further searching he finds some parts for the artwork for the cover, label logos and the finished front cover art. He contacted The Datchord guys and the band members and sent them all a picture of what he found. And that is the story of the unreleased FLAG OF DEMOCRACY / THE DEAD MILKMEN split 7".