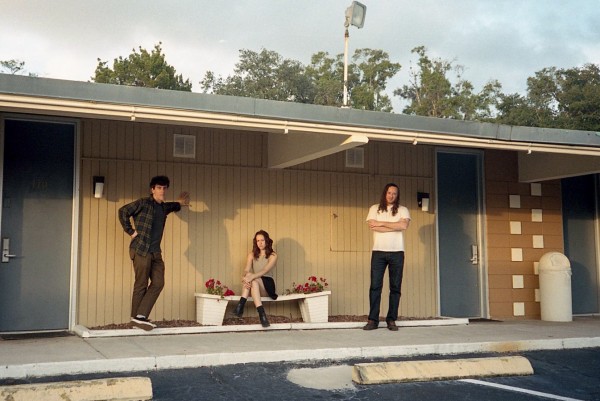 Today, Punknews is pleased to debut the new tune by UV-TV!
"Glass" is big, loud, and amorphous. Taking cues from bands like The Jesus And Mary Chain and Pixies, UV-TV roll out decidedly sharp and decidedly massive waves of guitar reverb. This is the kind of track that is deafening and sensitive at the same time. Not an easy task.
The band's Rose Vastola spoke to Punknews about the track: "The song is about change. It's about being content with the good and bad things that happen in your life. We decided to name the song 'Glass' because it shares the same material qualities. It's strong and heavy but also easy to break at any moment. The energy and themes of this song reflect throughout the entire record which is why we decided to call the album Glass. "
The album is out March 10 on Deranged Records. You can pre-order that right here. Then, check out the new tune with tour dates below!
Photo by A. Garrett

| Date | City | Venue |
| --- | --- | --- |
| 4/6 | Gainesville, FL | Boca Fiesta |
| 4/7 | St Augustine, FL | Planet Sarbez |
| 4/8 | Savannah, GA | Cake Factory |
| 4/9 | Greensboro, NC | House Show |
| 4/10 | Richmond, VA | Strange Matter |
| 4/11 | Baltimore, MD | EMP Collective |
| 4/12 | Philly, PA | Ask a Punk |
| 4/13 | Brooklyn, NY | Don Pedros |
| 4/14 | Brooklyn, NY | Union Pool |
| 4/15 | TBA | TBA |
| 4/16 | Cleveland, OH | Now That's Class |
| 4/17 | Chicago, IL | Margaritaville |
| 4/18 | Kansas City, MO | Blind Tiger |
| 4/19 | Oklahoma City, OK | TBA |
| 4/20 | Las Cruces, NM | Art Obscura |
| 4/21 | Tucson, AZ | Pomoro |
| 4/22 | Long Beach, CA | 4th Street Vine |
| 4/23 | LA,CA | Redwood Bar |
| 4/24 | Davis, CA | KVDS Radio |
| 4/25 | Olympia, WA | The Obsidian |
| 4/26 | Seattle, WA | Ask a Punk |
| 4/27 | Portland, OR | The Know |
| 4/28 | Oakland, CA | 1,2,3,4 Go! Records |
| 4/29 | San Francisco, CA | The Hemlock |
| 5/1 | Flagstaff, AZ | House Show |
| 5/2 | TBA | TBA |
| 5/3 | San Antonio, TX | Limelight |
| 5/4 | Austin, TX | Hotel Vegas |
| 5/5 | Dallas, TX | The Foundry |
| 5/6 | NOLA, LA | Poor Boys |
| 5/7 | Birmingham, AL | D.I.S.C.O |
| 5/8 | Nashville, TN | Ask a Punk |
| 5/9 | Atlanta, GA | The Earl |