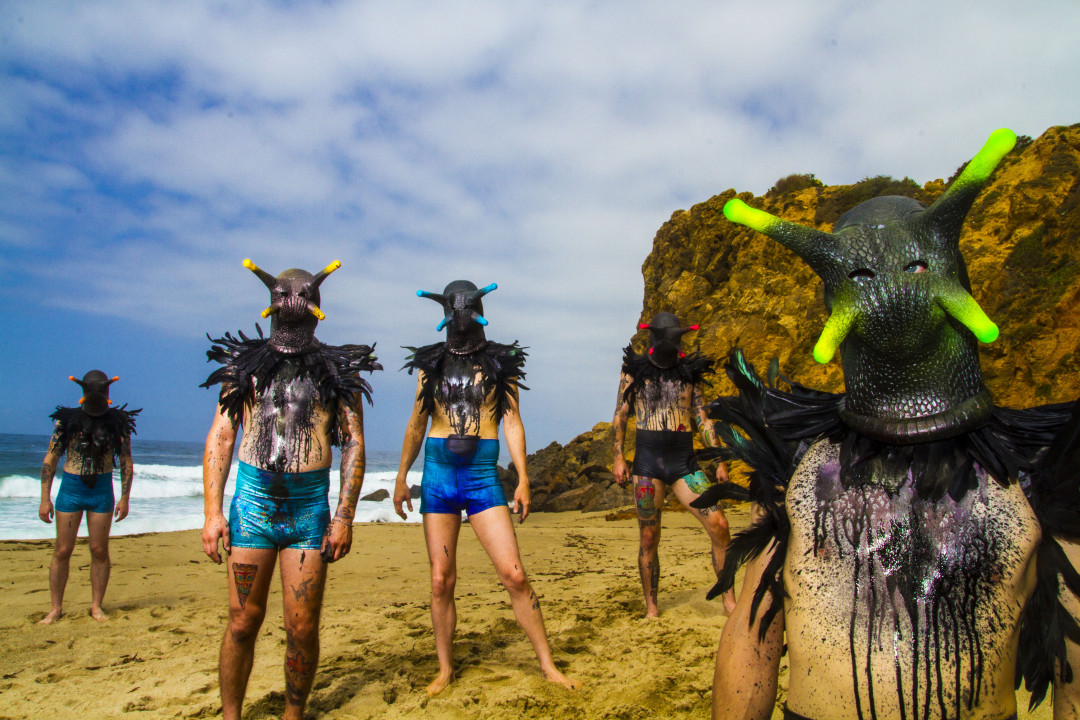 Today, Punknews is pumped to debut the massive 25-track album by The Manx!
Two years ago, the freak-punkers released Voyage In Bad Taste which found them warping folk-punk into a dark acid trip. Well, their new released, Mystery Skum and The Odyssey Of Goo, is even more warped. Across the release's 25 tracks, the band remixes earlier material, creates bizarre and horrifying soundscapes, and teases some of their even more messed up upcoming material. On top of that, they brought in a team of collaborators to further make this release MESSED UP. Justin Roiland of Rick and Morty, Buzz Osborne of The Melvins, Ryan Kattner of Man Man, and JR Slayer of Blood Brothers all make appearances. The result is something between the spastic mania of Captain Beefheart and the spiraling chaos of Rudimentary Peni (if RP were from the Bayou, that is).
Speaking to Punknews, the band's Tommy Meehan said "I've always really appreciated it when bands have put out supplementary material to their full length albums via singles, b-sides, remixes, or whatever. Segue albums like Marilyn Manson's, Smells Like Children and full on remix albums like NIN's Further Down The Spiral. Putting that kinda material out allows the fans to peer a bit deeper into the artists genetic make-up. Mystery Skum and The Odyssey of Goo gave us a chance to do that. We also got to collaborate with some really slick artists in ways that we wouldn't normally have gotten to. Among other things included on the cassette tape are a bunch of experimental tracks and atmospheric bits we've used for live shows over the last couple of years. There are several little gobs and splats of foreshadowing that will tie into our upcoming full length album as well. This collection of absurdities is a labyrinth of digital grime almost as much as it is a road map to the slimed out Manx lore we've been evolving over the last couple of years."
Mystery Skum and The Odyssey Of Goo is out on Friday and you can pre-order it right here. Meanwhile, check out the whole thing below, right now!
| Date | City | Venue |
| --- | --- | --- |
| July 19 | Long Beach, CA | Toxic Toast Theatre w/ Froggy Fresh |
| July 20 | Tucson, AZ | Cans Deli w/ Mr. Free and the Satellite Freakout |
| July 21 | Tucson, AZ | Che's Lounge |
| July 28 | Tijuana, MX | YouRevolution |