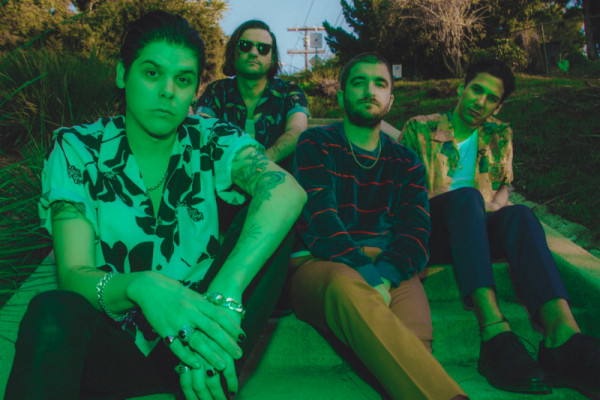 Plague Vendor emerged from a practice space in Whittier, CA in 2009, centered on a predilection for dark tones and instinctual playing. The four people who created it were friends before its birth, connected by their hometown, and found its thematic core with a certain ease. The first songs were written around the moniker itself, which recalled narrative elements from a Mexican folk tale the musicians had read and exemplified the power two words can create when melded together. The first shows were raucous and treacherous, infused with raw vigor and a sense of shock value. It was clear from the outset that Plague Vendor was peddling something formidable.
The band was invited to perform around Southern California early on. The musicians opened for Little Dragon and Passion Pit and played Chain Reaction, The Glass House and Fox Theater. They played backyard parties and big clubs and performed at festivals like Epicenter and Rockin' Roots Fest. They explored their punk rock aesthetic opening for Iggy Pop, Jello Biafra and Social Distortion. At the heart of all the shows was a real energy and spirit, a snarling, frenetic performance led by Brandon's yelping howl.
Meanwhile, sometime between shows, Plague Vendor wrote their debut album over the course of one week. The musicians decamped to Regime Studios in North Hollywood with producer Tom Livemore and laid down the tracks in a mere three hours. Everything was recorded live, using only two or three takes, and no overdubs were added to the songs. With an hour to spare, the musicians wrote another song on the fly, a propulsive, boisterous number called "Black Sap Scriptures" that opens the disc.
In the end, Plague Vendor's flagship album, Free To Eat, clocks in at less than twenty minutes. It embraces multiple sensibilities at once, veering rapidly from aggressive thrash to melodic introspection, compressing the range of human experience into ten rapid-fire, in-your-face songs. At shadowed, dark vibe flows throughout the tracks, the lyrics mirroring the pummeling instrumentation. For Brandon, the words are important. The songs say something worthwhile, revealing subconscious interpretations of the musicians' experiences and ideas.
Free To Eat slips through various incarnations of Plague Vendor's sound. "Breakdance On Broken Glass" revels in a static-laced, grit-fueled rock 'n' roll vibe, buzzing feedback balanced with swirling guitar licks. "My Tongue Is So Treacherous" opens with a wild howl, driven by wide-eyed fervor and grinding beats, while "Cursed Love, Hexed Lust" embraces a bluesy rock sensibility, one amplified by jangling guitars and Brandon's yelping vocals.
The four musicians draw on a variety of inspiration to cull together Plague Vendor's songs. They are interested in a vast range of stylistic sensibilities, including ones outside of music, to create genuine, invigorated numbers dictated largely by impulse. The band members practice sincere honesty during the creative process and have learned to wait for the perfect moment of inspiration to arrive naturally. From the beginning, the musicians would only reveal three influences: Andy Kaufman, George Carlin and Jack Kevorkian.
Plague Vendor is rooted its place of origin, both in Whittier and in the center of a four-way friendship. Its force, simultaneously dangerous and comforting, and predicated on the meaning its own name invokes, is undeniable.