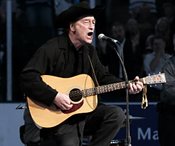 It's Sunday July 2nd, 2006. This is the first week that I almost forgot to write this article. What can I say, it's a long weekend up here in Canuckistan and there's still one period left in the game. After what seems like 60 or 70 BBQs and countless beers I don't see why I should stop now.
Oh, and Jesse Luscious this picture's for you.
The people must have something good to read on a Sunday
You know there's something about the term "indefinite hiatus" that just kills me. Maybe the finality of a proper break-up is just easier to swallow. However you want to define it, the sad announcement came from Sleater-Kinney this week. Rancid's North American tour keeps getting bigger and better, and after all the drama and side-projects it's great to see the guys back doing what they do best. A number of popular acts including AFI, Panic! At the Disco, and the All-American Rejects were ridiculed by hackers who vandalized popular online retailer Amazon.com earlier this week. Yellowcard took an introspective turn, publicly pondering if they "went a bit too far" with their latest record. Warped Tour is in full swing and joined the podcast revolution with tour head Kevin Lyman chatting with NOFX. The tour stayed in the news as From First to Last dropped off. AFI's tearing up the pavement in support of Decemberunderground, announcing upcoming dates in Germany and the UK. Lifetime continues their high profile resurrection with the announcement of a 2-track single in the fall. Finally this week saw two new songs posted from the upcoming posthumous Johnny Cash record.
Radio Free Punknews
Check the Punknews Music page for to check out new music from Good Riddance, Rollo Tomasi, the Methadones, Tragedy, Rise Against and Drag The River among others.
Suntans are for Winners Win a trip to Cleveland for the Warped Tour
With the Warped Tour kicking off this week, it seemed appropriate to debut another big contest for the tour; this one is a biggie; a trip for two to Warped Tour 2006 August 11th at Tower City Amphitheatre in Cleveland, OH - plus accommodations and transportation to and from the show; a pair of tickets for the Rock'n'Roll Hall of Fame tour, a signed guitar, a video iPod, an annual subscription to Audio Lunchbox and a subscription to Alternative Press magazine.
Epitaph summer music
Summer's here and Epitaph Records wants to provide your soundtrack. Enjoy the heat to the sunny tunes of Raised Fist's Sound of the Republic, the Bouncing Souls' The Gold Record and the 5th edition of the Give em the Boot series. We'll even top it off with some new threads.
Cuddle up with Good Riddance & Gama-Go
Nothing says comfort like the the impassioned political hardcore of Good Riddance, and to celebrate their new Fat Wreck Chords full length My Republic we're giving away a Good Riddance / Gama-Go prize pack. Along with the band's new full length you can win a pair of PJs and slippers from the hip San Francisco clothier.
Panic Reflections Records is pretty stoked on getting the opportunity to release the first post-reunion disc from Boston, MA hardcore dudes Panic, and they want to celebrate by giving 1 lucky reader a whole mess of swag.
Win an XBOX360 and more from Rise Against
Our friends in Rise Against are set to release The Sufferer & The Witness July 4th on Geffen Records. To commemorate it's release, Rise Against and PunkNews.org have teamed up to bring you a contest where you can win an X-Box 360, autographed copy of The Sufferer & The Witness, and assorted rise Against goodies.
Win Warped Tour passes from Scotch Greens Scotch Greens has been confirmed for the first month of the Warped Tour. The band will be touring on the heels of their debut release Professional, and to celebrate are giving away to passes to the summer tour.
Life at Disconnect
We've theorized that you visit other websites out there, and we know it can be tough to leave the calming blue glow of the `Org, so we'll help by infecting the rest of the web with Punknews content. Waste some time on the Punknews.org and Punknews Records MySpace pages or contribute your listening habits to the weekly charts Last.fm group.
The Call Up
Why register on Punknews.org? Registered users can rate bands and reviews, building recommendations and links between artists for the whole community to share and discover. Users get their own profile page showing recent comments, top rated bands and favourite records and more. So go ahead, cast off the cloak of anonymity and create your account today - it's free, easy and private.