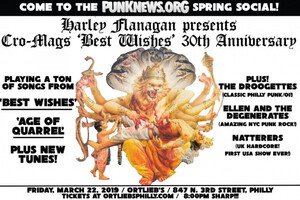 Have we got an AWESOME concert for you this Spring! This year marks the 30th year of the seminal crossover album Best Wishes and we have got a special treat put together. Harley will playing a TON of songs from Best Wishes to celebrate that album's third decade, as well as a ton of stuff from Age of Quarrel as well as some new stuff!
On top of that, we've got a killer slate of opening acts. Philly's own The Droogettes will bring their killer brand of punk and oi! NYC's Ellen And The Degenerates will play before that with their amazing brand of art-punk-hardcore! And, the show opens with UK hardcore punkers Natterrers, playing their first USA show ever!
This is an intimate show, and it's expected to sell out- so if you want to go, advanced tickets are HIGHLY recommended. The whole thing is March 22 in Philly and it will rule! You can check out the Facebook event here and pick up tickets right here! See you there!
Read more