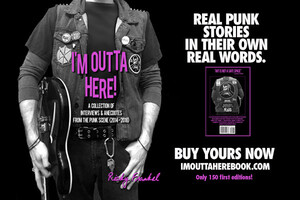 Hey everyone, your perfect holiday gift has finally arrived! My book I'm Outta Here!: A Collection Of Interviews And Anecdotes From The Punk Scene (2014-2018) is officially out! For those of you that missed the original announcement, the book is a collection of about 45 interviews (approx. 440 pages) of punk artists that I have conducted over the years of my involvement in the punk scene. Along with these interviews will be never before published anecdotes and stories, professionally shot photographs, and more. Many of the interviews are from different outlets (not just Punknews) as well as some that have never been published in written form before. Some of the musicians that are featured in I'm Outta Here! include members of the Ramones, Rage Against The Machine, Swingin' Utters, Off With Their Heads, X, Me First And The Gimme Gimmes, Good Riddance, The Flatliners, Masked Intruder, The Interrupters, The Dwarves, The Lawrence Arms, Direct Hit!, and many more. I'm Outta Here! is self-published and has a limited first edition of 150 copies. The book is now available to buy (signed or unsigned) right here!
One again, huge thanks to Aubin Paul for the opportunity to use Punknews as a platform for this. Without the ol' Org, Aubin, Adam White, John Gentile, the rest of the staff, and the readers, this would not have been possible. I truly appreciate it.
For more information about the book feel free to follow me on Twitter and/or Instagram.
Read more