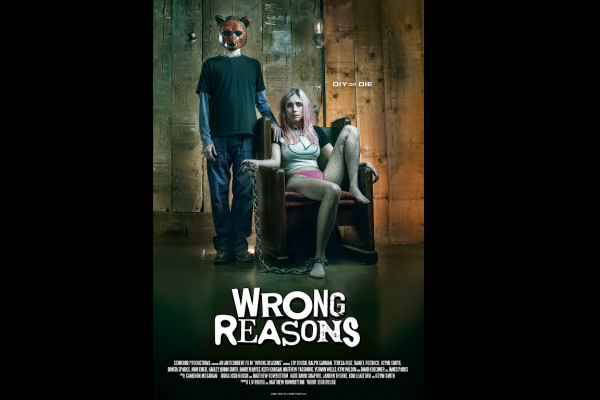 Today, we are thrilled to debut the trailer for Wrong Reasons!
Wrong Reasons was written and directed by Josh Roush of the very cool band Bi-Product (and he also happens to be one of the key dudes that works on Kevin Smith movies!) Roush's new film stars Liv (also of Bi-Product) as Kat Oden, a drug addled punk/hardcore vocalist, who gets kidnapped and held hostage by a psycho who has unclear motives. Does he love Kat? Does he hate her? for the film, Roush took his punk background and incorporated into the film stylistically and philosophically. We've seen an early cut of the movie and it is pretty rad.
Plus, if you watch carefully a few punkers and cool artists pop up in supporting roles. Watch closely for the likes of Donita Sparks of L7, Kym Wilson, and even Smith himself. Also, the soundtrack rocks: Tim Armstrong, Black Flag, L7, the Wipers, CH3, the Unseen, and more.
You can check more info on the film right here. We are psyched to debut the trailer and poster below. You can also read a short interview with Roush.
Read more