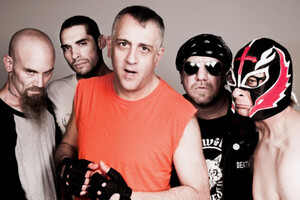 Ever since their resurrection with 2011's Born Again album, The Dwarves have been getting leaner and meaner. 2014's Invented Rock & Roll found the band stripping back to their hardcore and pop-punk aspects and blasting through a 25 minute album. Now, their new album, The Dwarves Take Back the Night, is even more primal, more savage, more vicious.
It opens with the slamming "Forget Me Not" and gets more crazed from there. "Take Back the Night" is a sinister, swaggering slash. "Everything and more" is 44 seconds of violent aggression. Of course, the band does slip in a few sweets here and there- with its bubblegum hook, "Trace Amounts," which is about OD-ing on coke, is downright cheery.
Because the band is coming out swinging on their latest LP (out February 9 via Burger/Greedy), Punknews' John Gentile spoke to frontman Blag Dahlia about how he is perceived, how he perceives himself, and drugs, of course.
Read more