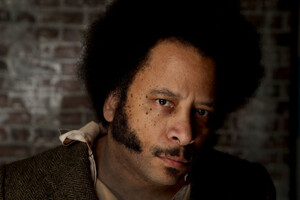 Boots Riley has arrived. For almost 30 years, the Bay Area native has been kicking out some of the most fiery, most clever, most radically left Hip Hop there is with his group The Coup. But, now, after years of hammering away, Riley has released his cinematic masterpiece, Sorry to Bother You.
The film follows Oakland's Cassius Green as he takes a job as a lowly telemarketer just to make ends meet. But, Green doesn't start making the Green until he, at the advice of Danny Glover, adopts a "white voice" in order to set his customers at ease. But from there, Riley then sends the whole thing into another planet as the film morphs into a magical realism journey that includes biting commentary on the modern capitalistic system. We'd tell you more but… you really do have to see this for yourself.
To see what Riley has to say about the film, Punknews' John Gentile rang him up to talk about telemarketing, working with Tessa Thompson, and what's up with the Coup in 2018. Check it out below.
Read more