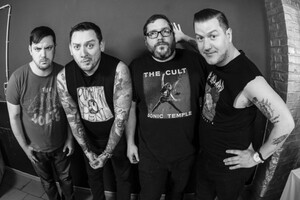 Teenage Bottlerocket has always been about positivity. So much so, that "rad" has become synonymous with the band because it pops up so much in the band's lexicon, becoming a common theme in the music. It has definitely become singer and guitarist Ray Carlisle's philosophy - a guide through tough times in life, especially recently when he his twin brother and former drummer, Brandon, tragically passed away in 2015.
Out today, the aptly titled Stay Rad! is a, um, a rad mix of silly and sentimental, with a little more sentimental as this is the first full length since Brandon's passing. Surprisingly, you romantics won't find has many songs about girls and relationships like past releases. Instead you have more mature (Gasp!) songs about fatherhood, the perils of social media and killing their long-time merch person.
Punknews writer Gen Handley spoke to Ray on his lunch break to talk about what it was like to make the new album, if they care about evolving or not, and how they have managed to keep politics out of their songs for nearly 20 years.
Read more