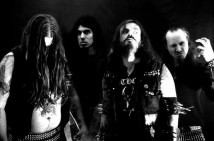 Metal Blade has announced the signing of Los Angeles, CA's Lightning Swords of Death. Vocalist Autarch provided this entertaining tidbit on the band's signing to the label:

"Metal Blade has made a pact with the Devil. His knights, LIGHTNING SWORDS OF DEATH shall go forth to wreak torment upon man and all his works for conquer and the glory of Hell on Earth. We rejoice in this union, together we shall stack the souls of the weak and fill our chalice with the blood of martyrs."
The band will enter the studio later this year to record their debut for Metal Blade, with a release expected sometime in 2010. Some music can be heard at their MySpace page.