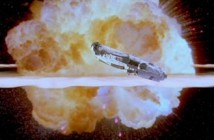 Thom Yorke of Radiohead is predicting an apocalypse for the music industry. In a new high school textbook called The Rax Active Citizen Toolkit, which also aims to increase political literacy, Yorke explained:

It is only a matter of time - months rather than years - before the music business establishment completely folds. (It will be) no great loss to the world.
Yorke goes on to urge new artists to avoid traditional record deals because they would be tying themselves to "the sinking ship." The members of Radiohead have made a number of provocative statements since the pay-what-you-want release of In Rainbows in 2007. While they have received support from some, others, like The Hold Steady and Robert Smith have expressed skepticism. Some, like Trent Reznor of Nine Inch Nails and How to Destroy Angels have been urging artists to self-release for some time.