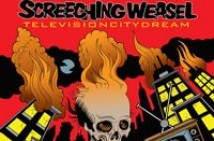 Last week, Fat Wreck Chords reissued Screeching Weasel's 1998 full-length Television City Dream with remixed and remastered tracks, bonus material and new artwork; we first told you about it here. Curious to hear how it sounds? Head here to download "Speed of Mutation" and judge the difference for yourself.
Frontman Ben Weasel had this to say about the reissue back in September:
"Bark Like A Dog had done really well for us in 1996 and I loved that record but I wanted to go in the opposite direction rather than do another mid/slow-tempo pop-based album. The album title was taken from a line in D.O.A.'s classic "The Prisoner" and I tried to incorporate that same attitude into the songwriting and tempos: it was meant to be a fast, aggressive, "fuck you" kind of record. Which it was, but the mix and mastering just didn't deliver the goods. It's bugged me ever since it was released because I knew it was a great record and it was underrated right out of the gate; hearing it done up right it's obvious that it's easily the band's best post-'94 album."
A direct download link for the track can be found here.