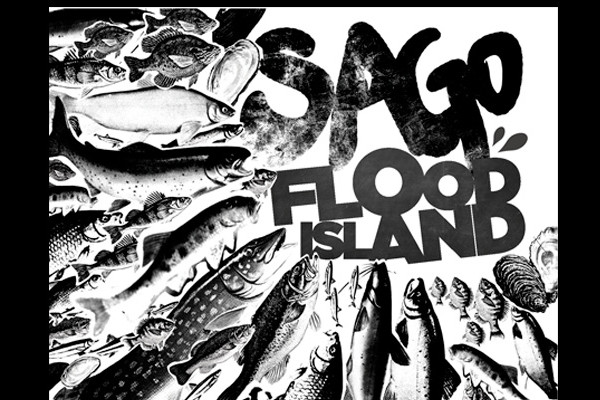 We're thrilled to debut a new song and video from Toronto punk act SAGO just hours before their big show at the Bovine Sex Club tonight. The band's shared their new video for the song "Squealer" with us. Bassist Mike Crossley described the track to us as being "about a rigged voting system and the distracting puppet show that is modern politics." It's one of the shortest from their upcoming ten song full-length Flood Island, a heavy hardcore punk record with a social and environmentally conscious message. It was recorded with Ryan Cox (Jon Creeden, School Damage) and is due this summer.
The band let us know what they were shooting for on the Chad Kerswill directed "Squealer" video :
The video was made by giving cameras/phones to audience members and friends at our live shows over the course of a couple of years to gather footage, and was edited down for some of the best action that fit the song. We wanted to keep it raw like an old Wu-Tang Video (Protect Ya Neck).
SAGO features veterans of a number of Ontario punk and hardcore acts. The five-piece features lead guitarist Marty Poulin (Lilim, Dragged In), vocalist Alexandre Wilson (Sofistifucks), drummer Piers Fox (Cerebral Scrub), bassist Mike Crossley (Vilipend), and rhythm guitar player Chad Kerswill (Single File to Freedom).
The band is supporting the Montreal metal act Barn Burner tonight at the Bovine Sex Club in Toronto, the band's only Ontario show before their big hometown reunion gig at Pouzza Fest this weekend. You can find details on the gig at Facebook, it will also feature Royal Red Brigade and Satanic Genocide.
| Date | City | Venue |
| --- | --- | --- |
| Friday, May 18 | Toronto | Bovine Sex Club w/ Barn Burner |
| Saturday, June 23 | Toronto | Coalition w/ Appalachian Terror Unit & Hard Charger |
| Saturday, June 30 | Montreal | Traxide w/ Glassed |
This story is part of a reporting partnership between Punknews.org and Some Party, a weekly newsletter covering independent Canadian rock music. Subscribe at someparty.ca.