It seems Tegan and Sara could have easily sold out a venue twice Webster Hall's size, but here at the New York venue (1500 cap or so) one had to be thankful to have some level of intimacy. For all the arena-sized moments of boldness on the duo's recent album, The Con, it's a much more comfortable setting dealing with a large club setting and not a huge theater.

First up was Northern State, a girl-rap trio from Long Island who probably can't escape reviewer phrases like "the Beastie Boys with estrogen." The only thing is, upon arrival the chatty outfit had dug into "Girl for All Seasons," a song that strutted with a confident pomp and overbearing synths that reminded me more of Gravy Train!!!! without their overtly sexual nature and less of the Beasties without their Y chromosomes. The girls, accompanied by a few instrumentalists to provide the beats, engaged the crowd with their banter rather well, often pre-facing their more politically-oriented songs with an urging to take action (i.e. the voter registration-themed "Cold War"). It's hard-pressing to say much enjoyment was pulled from their forty-minute set, especially when songs devolved into an off-time mess of vocal sloppiness, but they had a bunch of legitimate fans in attendance that seemed to be fairly pleased.

The main attraction arrived a short 22 minutes later, with Tegan and Sara Quin taking the stage along with a few touring partners to help fill out the band. While they were as adorable as you could imagine, they also appeared to be sincere characters, telling detailed anecdotes between songs that often went off track and were littered with the occasional F-bomb, both of which certainly humanized their set. They took quick, frequent breaks to change guitars or instruments, with either/or sometimes taking up duties on the keyboard. Their songs sounded on par with their studio recordings: lush numbers that were sometimes expansive and other times minimal and whittled down to a lone guitar or piano.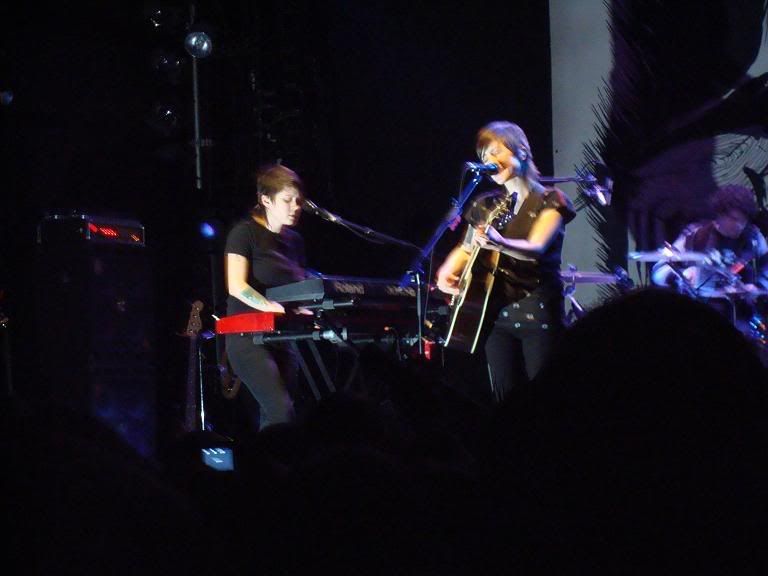 When they opened with "Dark Come Soon," it was definitely a subtle way of introducing themselves, slowly bringing the crowd into the songs. Despite Tegan's noticeably gravelly delivery for this song, her voice quickly smoothed out and was in more standard form for the next 20 songs.

Subtle opening or not, they easily had the crowd in the palm of their hand. Typical roars of applause came for every cute story, such as Tegan's re-enactment of her creepy landlord standing over her exposed midsection while she slept in a park. The two were also blunt about their planned encore, and urged the crowd to try something new, that being establishing a complete silence after their last song until they returned to the stage. Aside from sporadic hushed chatter around the venue, it actually kinda worked, but I think most of us were already in awe from the wonderful 1-2 of "Back in Your Head" and "The Con" (not to mention "Nineteen"'s humungous yet heartfelt chorus delivered early on in the set).

A near hour-and-a-half of wonderfully composed indie pop songs sedated the crowd nicely. They played all but three songs off The Con, almost half of So Jealous and even threw in some lesser-knowns off 2002's If It Was You. The surprise was a cover of Rihanna's "Umbrella," which they seriously made their own.

Awesome set that totally fulfilled expectations after hearing the greatness of The Con.

Set list (10:02-11:30):
Dark Come Soon
-----
Like O, Like H
-----
Floorplan
-----
Nineteen
-----
Hop a Plane
-----
Speak Slow
So Jealous
-----
Monday Monday Monday
Where Does the Good Go?
Soil, Soil
-----
I've Got You
-----
Relief Next to Me
Are You Ten Years Ago?
-----
Back in Your Head
The Con
-----
Call It Off
Encore:
You Wouldn't Like Me
Take Me Anywhere
Umbrella [Rihanna cover]
-----
Walking with a Ghost
-----
Living Room
Photo by Tym