Clifton Park's Northern Lights venue was a surprisingly cozy venue for a tour I figured would be drawing bigger crowds in cities right near major universities (SUNY Albany is 20 minutes away). It was a really promising trio and each completely delivered the goods.

Pelican was already ten minutes into their set or so when we'd arrived, that song being "Sirius," the closer of 2005's The Fire in Our Throats Will Beckon the Thaw. Their drummer's really gotten flogged in reviews for the band's more recent album, last year's City of Echoes, but he seemed to hold steady here, keeping time and driving the rhythms and patterns well enough. They sounded powerful, and though the crowd didn't really seem to know what to do with them (aside from sporadic followers), they gave a warm reception after every song and especially upon conclusion of the set, which was the magnificent "Last Day of Winter." It was cool to see that the band was given around a 40-minute set, as well.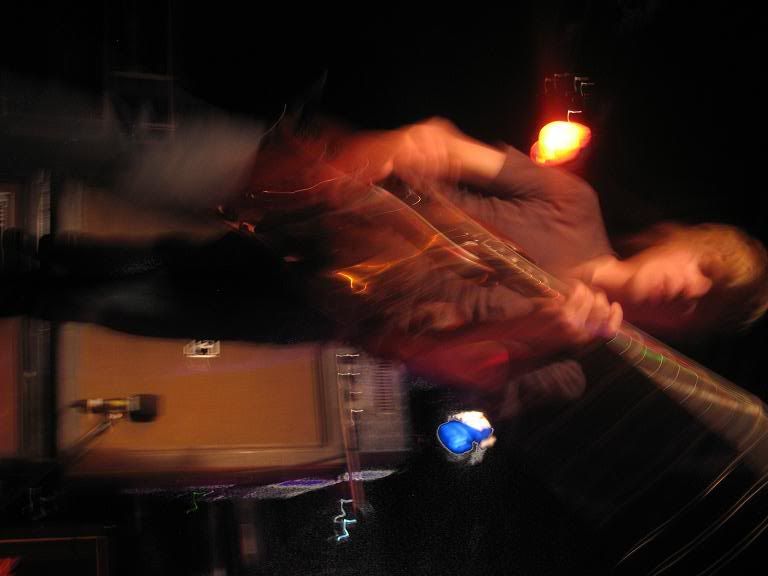 With a bit more grit to his voice, Anthony Green gave a new emphasis and urgency to Circa Survive that was unusual for them, considering more ambience and restraint has taken precedence in their sound. The set was about evenly split between their two full-lengths, with added dynamics, modified transitions and even a cool dub overlay for one song. They sounded great in the small club setting, which I'd never been afforded the opportunity to witness given their rapidly increasing fanbase. In fact, there was a noticeable departure of fans after the set; I'd wager it was the ones who were most rabid, climbing over each other for the chance to wail Green's soul-searching lyrics right back to him.

I'm not quite sure what the band opened with; there was some pretty post-rock twinkling and Green singing unfamiliar lines -- maybe it was that partial Björk cover he's known to sometimes throw in. There was a similar moment in between "Stop the Fucking Car" and "Kicking Your Crosses Down" with unfamiliar lyrics and guitar riffs; I just couldn't pick up on it. The only non-band material I did get was the Happy Birthday song played before the last two songs.

Set list (7:57-8:41):
?
Living Together
The Great Golden Baby
-----
Travel Hymn
-----
Mandala
Stop the Fucking Car
?
Kicking Your Crosses Down
-----
The Greatest Lie
-----
In Fear and Faith
The Difference Between Medicine and Poison Is the Dose
It was comforting to know that Thrice would be taking advantage of this headlining tour set and be playing a wide breadth of material from their expanding catalog. However, the crowd reaction was mixed; they were sometimes lukewarm to the softer, deeper cuts from
The Alchemy Index
("Lost Continent," "Broken Lungs"). Dustin Kensrue would acknowledge this later on, thanking the crowd for their patience as they played the newer stuff (ultimately rewarding the crowd with "Deadbolt"). Sure, there were definitely a few people present for each of those songs who knew the lyrics and were visibly enjoying the vivid, colorful performances, but there was serious push-pit and flailing limb action for many of the songs from
The Artist in the Ambulance
(the title track? Mania.), the one heavier track off
The Illusion of Safety
and a couple from
Vhiessu
. Dudes in choo-choo hats and Glassjaw shirts would make prompt walks to the back of the venue whenever a song from
Alchemy
was announced and return for mild raging when songs off
Ambulance
were parlayed.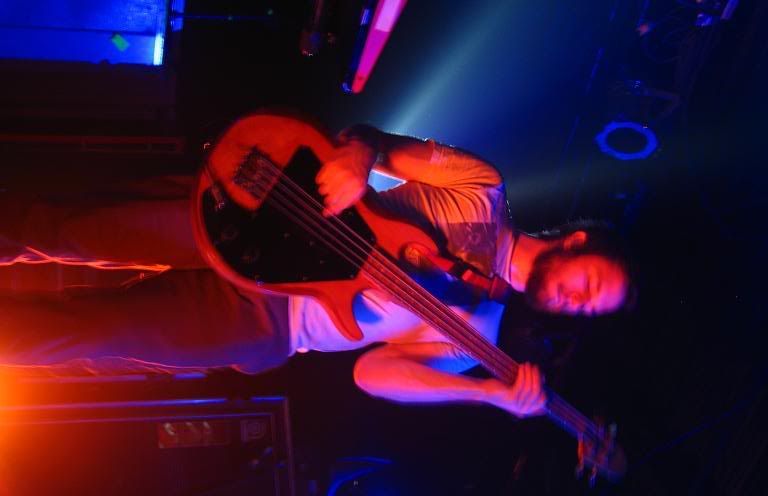 Again, though, those performances of the new songs were mostly nicely done. "Digital Sea" was a little more gritty, as the band heaped on the distortion a bit, unfortunately draining the song of much of its beauty. However, "Lost Continent" really tested Kensrue's vocal abilities and he was up to its requirements there, turning in an arresting vocal display that the song really relies upon. "Come All You Weary" matched all its tones and benefitted heartily from the live full band treatment. The Appleseed Cast-esque prettiness of "Broken Lungs" was executed with shine, but it really seemed lost on those who clearly preferred the band's heavier dynamics.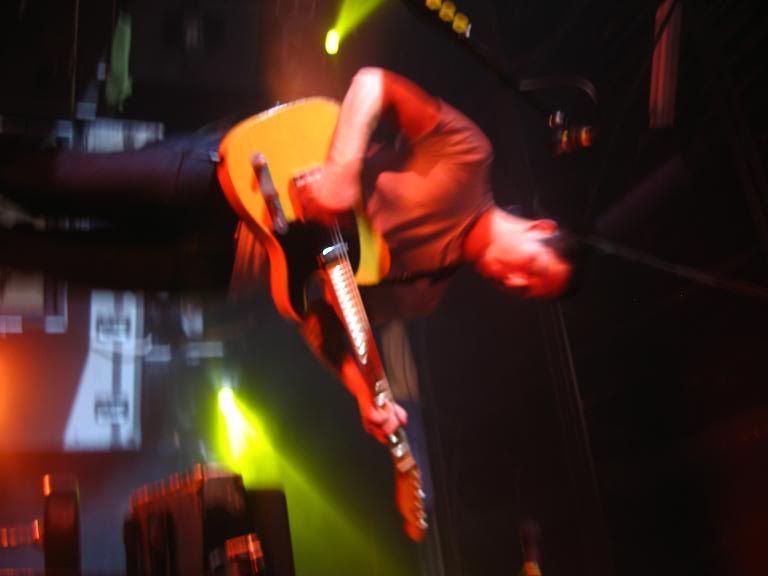 I didn't even really recognize the third song they played, which I later learned was "Flags of Dawn"; interestingly, I'd surmised at the time that it was a song off 'Air' I haven't yet fully immersed myself in. However, it's actually a B-side from
Vheissu
, available on the
Red Sky
EP.
"Trust" was the sole other pre-
Ambulance
song played, and it fit surprisingly well in the set. The band added a more atmospheric nature to it, almost making it seem more like a late entry in
Vhiessu
's sequencing.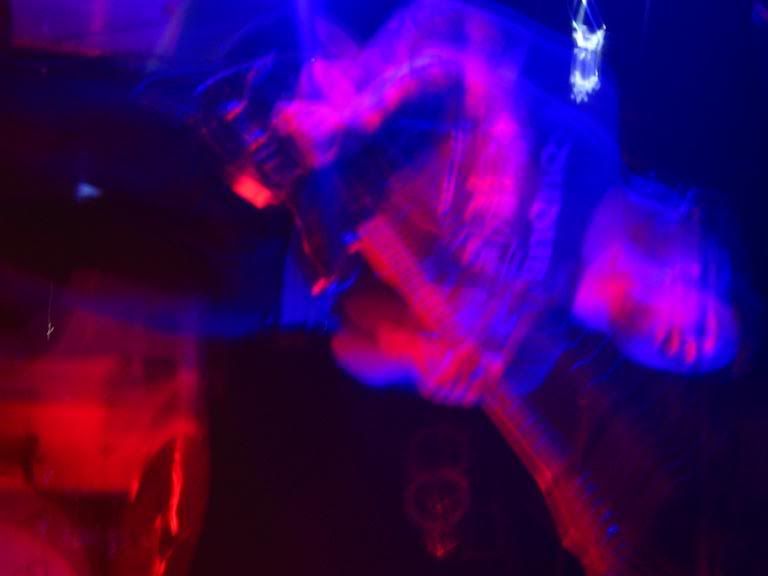 The encore was an incredibly weird choice: two non-singles off
Vhiessu
, but the crowd roared in approval and "The Earth Will Shake" turned out to be a powerful closer.
Set list
(9:20-10:50):
Hold Fast Hope
All That's Left
-----
Flags of Dawn
Digital Sea
Firebreather
The Messenger
-----
Trust
-----
The Earth Isn't Humming
The Artist in the Ambulance
Under a Killing Moon
-----
Lost Continent
Stare at the Sun
-----
Broken Lungs
-----
Come All You Weary
-----
Of Dust and Nations
-----
Daedalus
Don't Tell and We Won't Ask
-----
Deadbolt
Encore:
For Miles
The Earth Will Shake
My one complaint? Thrice's $20 price tag for T-shirts printed on Bay Island Sportswear; hopefully it's because Invisible Children, the charity riding along with the tour, is getting a good cut of it.
Besides everything else, a surprisingly tolerable crowd and very modestly sized venue made for an excellent show. There's still a few weeks left, so hit it up.
Photos by: Me -- check out more Thrice pictures or Pelican pictures at my Flickr page