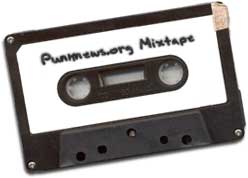 Suburban Home Records has launched a new feature on their website called Guest Mixtapes. Every month, the site will be posting a mixtape compiled by someone in the community. The first edition was provided by our friend and barrister Jordan of Pastepunk and you can check that out here.
This month, I submitted a selection of twelve tracks to put together a mix tape of my own. The track listing for the mixtape can be found here and you can listen to the songs here. (No, I'm not sure who the guy in the picture is)
Finally, the nice people at Suburban Home will give you 10% off your orders with their online store if you use the coupon code "punknews" so take a look.
| Band | Song | Record |
| --- | --- | --- |
| Hot Snakes | "Braintrust" | Audit in Progress |
| Against Me! | "Those Anarcho Punks Are Mysterious" | The Acoustic EP |
| Gamits | "Sorry Song" | Endorsed By You |
| Pavement | "Newark Wilder" | Crooked Rain, Crooked Rain: LA's Desert Origins |
| Alkaline Trio | ""Fuck You Aurora" | Maybe I'll Catch Fire |
| Bouncing Souls | "Punks in Vegas" | Bouncing Souls/Anti-Flag BYO Split |
| Briefs | "Knife" | "Hit After Hit" |
| Hot Water Music | "Tradition" | "Never Ender" |
| Leatherface | "In My Life" | The Last |
| Give Up the Ghost | "There's a Black Whole in the Shadow of the Pru" | Background Music |
| Some Girls | "I Need Drugs" | The DNA Will Have Its Say |
| Converge | "Color me Blood Red" | Petitioning the Empty Skin (2005 Reissue) |